Vol 13, No 6 (1913)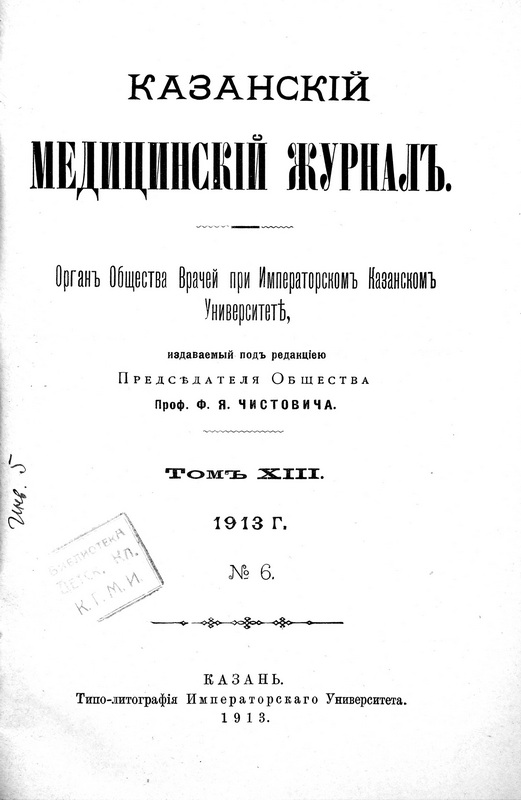 Abstract
M. g. Doctors have long and well known the fact that people with syphilis, in the vast majority of cases, turn out to be immune to new infection with this disease, in other words, they acquire immunity to syphilis. This fact was based not only on clinical observations, but also on more accurate data, experimental, so-called reinoculation, inoculation of syphilis for people who had previously had syphilis. Despite the fact that in the past this kind of vaccination was carried out very widely, there was a lot of unclear and even contradictory in the study of immunity in syphilis.
Kazan medical journal. 1913;13(6):453-462
453-462
Abstract
Material. Fruits, babies and adults served as material for my study. There were only 5 fruits in my order for histological examination: one — 3 msec., The other — 5 msec. and three — 6 ms. (8 embryos of a younger age, starting with 9 mm G. L. and up to 50 mm, already properly fixed, are intended by me for the next embryological work). I studied 69 babies, starting from the day of birth and ending with the age of 6 months, and, finally, I examined 16 corpses of a later age, starting at 7 years old (see the next chapter) - on the subject of studying the reverse development of the accessory organs.
Kazan medical journal. 1913;13(6):463-507
463-507
Abstract
The essence of leukemia is the primary generalized hyperplasia of hematopoietic tissue. Excretion of immature elements of hematopoiesis into the blood delimits leukemia from pseudo leukemia, which is identical to it in terms of changes in the organs of the disease.
Kazan medical journal. 1913;13(6):508-530
508-530
Abstract
The invitation to the congress, the impressions of which I want to share now, was received by the Society of Physicians at the beginning of this year. At the same time, an approximate program of this congress was sent In Kazan, a local branch of the Steering Committee was organized, the chairman of which was prof. V.P. Osipov.
Kazan medical journal. 1913;13(6):531-538
531-538
Abstract
The members of the Island were present: A.N. Kazem-Bek, Idelson, Orlovskiy, Klyachkin, Luriya, Kazanskiy, Pervushin, Dyakonov, Gre-myachkin, Voskresenskiy, Malinovskiy, Vlasov, Yakhontovizep, Shibkovyev, Frishev Perfiliev, Molchanov, Barykin, Goryaev, Perimov, Kazanli, Melkikh, Lyubenepky, Leman, Voronzhev, Yakimov, Charushin, Gavorskiy, Mislavskiy, Lvov, Zarnitsyn, Garyaev, Vishnevskiy, Doligov Bѣlyaev and guests.
Kazan medical journal. 1913;13(6):а37-а44
а37-а44