The use of trental in complex infusion therapy of patients with food toxicoinfections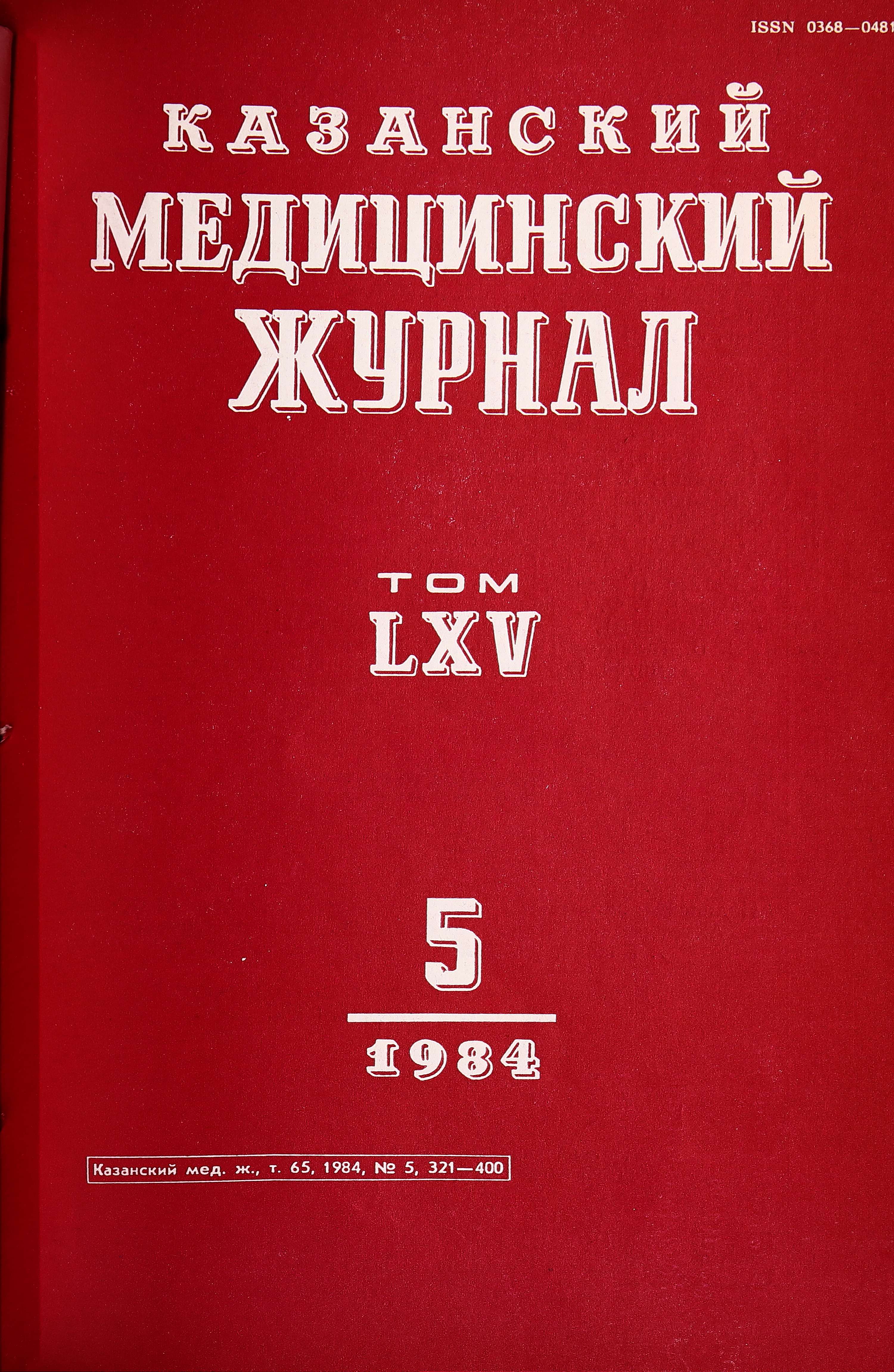 Authors: Tselik N.I.
Issue: Vol 65, No 5 (1984)
Pages: 387-387
Section: Clinical experiences
ID: 89444
Cite item
Abstract
We used trental in the complex infusion therapy of 17 patients with food toxicoinfections. The patients examined by us were aged from 17 to 56 years with a severe and moderate course of the disease. The diagnosis of "food toxicoinfection" was made on the basis of a complex of clinical, epidemiological and laboratory data. In all patients, a solution of "Kvartasol" in an amount of 1-5 liters was used as a means of infusion therapy. 17 patients were intravenously injected with 5 ml of trental in 500 ml of 0.85% sodium chloride solution for 40-60 minutes after the solution of "Kvartasol". After the end of the infusion, all patients received an Oratil solution, symptomatic remedies, and therapeutic nutrition.
Keywords
Full Text
Мы применяли трентал в комплексной инфузионной терапии 17 больных с пищевыми токсикоинфекциями. Обследованные нами пациенты были в возрасте от 17 до 56 лет с тяжелым и среднетяжелым течением заболевания. Диагноз «пищевая токси- коинфекция» ставили на основании комплекса клинико-эпидемиологических и лабораторных данных. У всех больных в качестве средства инфузионной терапии использовали раствор «Квартасоль» в количестве 1—5 л. 17 пациентам вслед за раствором «Квартасоль» внутривенно вводили 5 мл трентала в 500 мл 0,85% раствора хлористого натрия в течение 40—60 мин. После окончания инфузии все больные получали раствор «Оратил», симптоматические средства, лечебное питание.
О воздействии лечебных препаратов, на процессы энергетического метаболизма у больных с пищевыми токсикоинфекциями судили по содержанию фосфорорганических соединений в эритроцитах: 2,3-ДФГ, АТФ, АДФ, АМФ. В контроле обследовали 50 практически здоровых лиц.
Применение трентала в комплексной инфузионной терапии приводило к достоверному возрастанию абсолютного содержания АТФ и 2,3-ДФГ в эритроцитах до уровня нормы уже через 2 ч после, инфузии. Увеличение концентрации фосфорорганических соединений в эритроцитам обусловливало снижение стандартного сродства гемоглобина к кислороду и улучшение оксигенации тканей. Без использования трентала эти показатели достигали нормы через 5—7 сут лечения, и лишь содержание 2,3-ДФГ у больных со среднетяжелым течением пищевой токсикоинфекции восстанавливалось через сутки после инфузии раствора «Квартасоль». Введение трентала способствовало также увеличению относительной концентрации АТФ эритроцитов через 2 ч после инфузии (Р<0,05).
Таким образом, исследования показали, что внутривенное введение раствора «Квартасоль» с тренталом является более эффективным способом коррекции расстройств- энергетического метаболизма эритроцита у больных пищевыми токсикоинфекциями, чем введение солевого раствора без трентала.
About the authors
Author for correspondence.
Email: info@eco-vector.com
Russian Federation, Saratov