Clinical and immunological features of opisthorchiasis
Authors: Sabitov AU1, Soldatov DA1, Khamanova Y.B1
Affiliations:

Ural State Medical University

Issue: Vol 102, No 5 (2021)
Pages: 626-635
Section: Theoretical and clinical medicine
Cite item
Full Text
Open Access

Access granted

Subscription Access
Abstract
Aim. To assess the clinical and immunological features in patients with chronic opisthorchiasis, depending on the duration of the infection.
Methods. The first group consisted of 19 patients with the duration of the infection up to 1 year, the second group consisted of 21 patients with the duration of the infection between 1 and 5 years, the third group was formed of 23 patients with the duration of the disease more than 5 years, the control group — 20 healthy individuals. Immunological research was carried out at the Clinical Diagnostic Center. Statistical processing was performed using Microsoft Excel 2010 and Statistica 6.0 software. The statistical significance of differences was determined by using the Mann–Whitney test (U-test) at the level of significance of p <0.05. The correlations were assessed by calculating Spearman's rank correlation coefficients.Results Clinical features of chronic opisthorchiasis were revealed in the disease duration groups of up to 1 year, from 1 year to 5 years, more than 5 years: the subclinical course was most common in the group of up to 1 year; cholangiohepatitis prevailed in the group of between 1 to 5 years, allergic skin syndrome, cholangiocholecystitis and pancreatitis dominated in the group of more than 5 years. The immune response in chronic opisthorchiasis was characterized by: up to 1 year — lymphocytosis, increased levels of immunoglobulins M (IgM) and circulating immune complexes (CIC), a decrease in the number of T-lymphocytes (CD3+), as well as an increase in bactericidal activity of leukocytes (BAL); between 1 and 5 years — monocytosis, increased levels of immunoglobulins M, immunoglobulins G and circulating immune complexes, a decrease in T-cytotoxic lymphocytes (CD8+) and nitro blue tetrazolium (NBT test), as well as an increase in NK cells and phagocytic activity of monocytes, more than 5 years — eosinophilia.
Conclusion. Common features of rearrangement of the immune system in opisthorchiasis: inflammatory changes in the hemogram, activation of humoral immunity with parallel suppression of the cellular component of the immune system, and increased phagocytosis.
Full Text

References
Beloborodova E.I., Svyatenko I.A., Beloborodova E.V. Course of gastroesophageal reflux disease on a background of chronic opisthorchiasis. Klinicheskie perspektivy gastroenterologii, gepatologii. 2011; (4): 26–30. (In Russ.)
Krivosheev A.B., Khvan L.A. Chro­nic opisthorchiasis and biliary dysfunction. Poliklinika. 2017; (3): 28–30. (In Russ.)
Kuznetsova V.G., Krasnova E.I., Paturina N.G. Opisthorchiasis in the clinical practice of an infectious disease doctor. Attending physician. 2013; (6): 74–78. (In Russ.)
Paltsev A.I., Eremina A.A. Non-alcoholic fatty liver disease and opisthorchiasis. Features of the clinic, diagnosis, treatment. Doktor.Ru. 2015; (2-2): 57–58. (In Russ.)
Drynov G.I., Ushakov D.V. Parasitic allergy. Infectious diseases: news, opinions, training. 2014; (1): 28–32. (In Russ.)
Peckruhn M., Elsner P., Tittelbach J. Eosinophilic dermatoses. J. Dtsch. Dermatol. Ges. 2019; 17 (10): 1039–1051. doi: 10.1111/ddg.13943.
Grishina E.A. The role of cytokines in the immunity development at helminthiasis. Russian Journal of Parasitology. 2016; 38 (4): 521–526. (In Russ.) doi: 10.12737/23077.
Kawraemruaen C., Sermswan R.W., Wongratanacheewin S. Induction of regulatory T cells by Opisthorchis viverrini. Parasite Immunol. 2016; 38 (11): 688–697. doi: 10.1111/pim.12358.
Ilyinskikh E.N., Ilyinskikh I.N., Ilyins­kikh N.N., Lepyokhin A.V., Yurkin A.Yu., Buzhak N.S. Characterization of cellular immune response associated with infection intensity in chronic opisthorchiasis patients. Bulletin of Siberian Medicine. 2010; (1): 40–44. (In Russ.)
Bai X., Yu J.L., Wang F., Zhao Y., Liu M.Y., Wang G.M. Alternatively activated macrophages in helminth infections. Zhongguo Ji Sheng Chong Xue Yu Ji Sheng Chong Bing ZaZhi. 2011; 29 (3): 219–23. (In Chinese.) PMID: 21970115.
Salao K., Watakulsin K., Mairiang E., Suttiprara S., Tangkawattana S., Edwards S.W., Sripa B. High macrophage activities are associated with advanced periductal fibrosis in chronic Opisthorchis viverrini infections. Parasite Immunol. 2019; 41 (1): e12603. doi: 10.1111/pim.12603.
Jenkins S.J., Allen J.E. Similarity and diversity in macrophage activation by nematodes, trematodes, and cestodes. J. Biomed. Biotechnol. 2010; 2010: 262609. doi: 10.1155/2010/262609.
Bychkov V.G., Pankov I.V., Chernov I.A., Kulikova S.V., Lazarev S.D. Sudden cardiac death in hypereosinophilic syndrome against the background of superinvasive opisthorchiasis. Forensic medicine. 2019; 5 (S1): 97–98. (In Russ.)
Chernogoryuk G.E., Roslyakova E.P., Shepeleva E.G., Denisova O.A., Mikhaylova A.A., Tyukalova L.I., Varvyanskaya N.V., Rachkovskiy M.I., Kalyuzhina E.V., Garganeeva N.P. Eosinophils and bronchial obstruction in patients with copd and chronic opisthorchis felineus infection. Modern problems of science and education. 2016; (6): 270. (In Russ.)
Pozdnyakova L.L., Krasnova E.I., Kuznetsova V.G., Malov I.V. Opistorkhoz u vzroslykh. Klinicheskie rekomendatsii. (Opisthorchiasis in adults. Clinical guidelines.) Novosibirsk. 2014; 53 p. (In Russ.)
Dietrich C.F., Atkinson N.S.S., Lee W.J., King K., Neumayr A., Braden B., Richter J., Akpata R., Southisavath P., Schreiber-Dietrich D., Dong Y. Never seen before? Opisthorchiasis and clonorchiasis. Z. Gastroenterol. 2018; 56 (12): 1513–1520. doi: 10.1055/а-0751-3078.
Plotnikova E.Yu., Baranova E.N. Opistorchoz: complications and problems of treatment. Gastroenterologiya Sankt-Peterburga. 2018; (3): 14–18. (In Russ.)
Matveeva M.Yu., Ofitserov V.I. Mediko-biolo­gicheskie osobennosti opistorkhoza. Informatsionno-metodicheskoe posobie. (Biomedical features of opisthorchiasis. Informational and methodological guide.) Novosibirsk: Vector-Best. 2018; 32 p. (In Russ.)
Huang L., Appleton J.A. Eosinophils in helminth infection: Defenders and dupes. Trends Parasitol. 2016; 32 (10): 798–807. doi: 10.1016/j.pt.2016.05.004.
Motran C.C., Silvane L., Chiapello L.S., The­umer M.G., Ambrosio L.F., Volpini X., Celias D.P., Cervi L. Helminth infections: Recognition and modulation of the immune response by innate immune cells. Front. Immunol. 2018; 9: 664. doi: 10.3389/fimmu.2018.00664.
Maizels R.M. Regulation of immunity and allergy by helminth parasites. Allergy. 2020; 75 (3): 524–534. doi: 10.1111/all.13944.
Knipper J.A., Ivens A., Taylor M.D. Helminth-­induced Th2 cell dysfunction is distinct from exhaustion and is maintained in the absence of antigen. PLos Negl. Trop. Dis. 2019; 13 (12): e0007908. doi: 10.1371/journal.pntd.0007908.
Coakley G., Harris N.L. Interactions between macrophages and helminthes. Parasite Immunol. 2020; 42 (7): e12717. doi: 10.1111/pim.12717.
Haase P., Voehringer D. Regulation of humo­ral type 2 immune response against allergens and helminthes. Eur. J. Immunol. 2021; 51 (2): 273–279. doi: 10.1002/eji.202048864.
Sripa B., Jumnainsong A., Tangkawattana S., Haswell M.R. Immune response to Opisthorchis viverrini infection and its role in pathology. Adv. Parasitol. 2018; 102: 73–95. doi: 10.1016/bs.apar.2018.08.003.
Logan J., Navarro S., Loukas A., Giacomin P. Helminth-induced regulatory T cells and suppression of allergic responses. Curr. Opin. Immunol. 2018; 54: 1–6. doi: 10.1016/j.coi.2018.05.007.
Harris N., Gause W.C. To B or not to B: B cells and the Th2-type immune response to helminthes. Trends Immunol. 2011; 32 (2): 80–88. doi: 10.1016/j.it.2010.11.005.
Gazzinelli-Guimaraes P.H., Nutman T.B. Helminth parasites and immune regulation. F1000Res. 2018; 7 (F1000 Faculty Rev): 1685. doi: 10.12688/f1000research.15596.1.
Douglas B., Oyesola O., Cooper M.M., Posey A., Tait Wojno E., Giacomin P.R., Herbert D.R. Immune system investigation using parasitic helminths. Annu. Rev. Immunol. 2021; 39: 639–665. doi: 10.1146/annurev-immunol-093019-122827.
Supplementary files
Supplementary Files
Action
1.
Рис. 1. Корреляционная связь между длительностью инвазии до 1 года и уровнем циркулирующих иммунных комплексов (ЦИК)
3.
Рис. 3. Корреляционная связь между длительностью инвазии от 1 до 5 лет и уровнем иммуноглобулина G (IgG)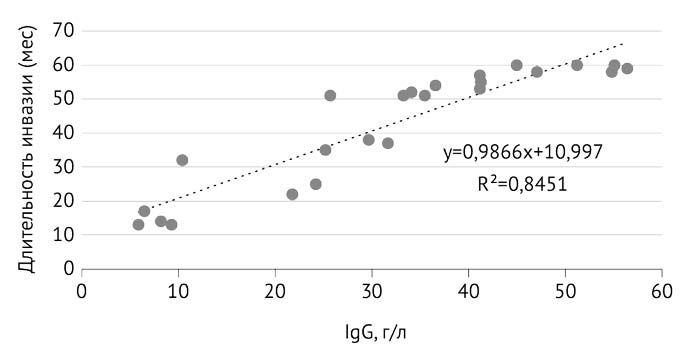 5.
Рис. 5. Корреляционная связь между длительностью описторхозной инвазии и уровнем цитотоксических лимфоцитов