Features of drug therapy for patients with myocardial infarction and different glomerular filtration rates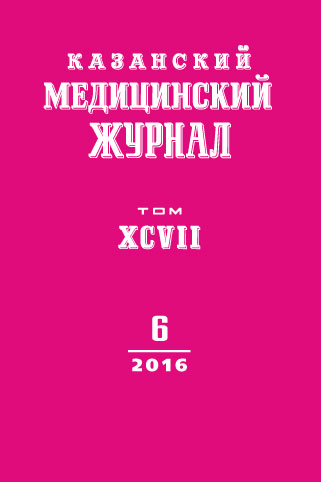 Authors: Belkorey OS1,2, D'yakova EN1, Oslopov VN3, Khasanov NR3
Affiliations:

City Polyclinic №218
Healthcare Department of North-Eastern Administrative District
Kazan State Medical University

Issue: Vol 97, No 6 (2016)
Pages: 887-892
Section: Theoretical and clinical medicine
Cite item
Abstract
Aim. To study the features of treatment of patients with myocardial infarction and different functional state of kidneys at outpatient and inpatient stages of treatment.
Methods.A retrospective study included 179 patients admitted to the hospitals of Moscow North-Eastern Administrative District with verified diagnosis of myocardial infarction. Depending on glomerular filtration rate all patients were divided into two groups: patients with acute myocardial infarction and with GFR of ≥60 ml/min/1.73 m2, and those with GFR
Results. Prevalence of arterial hypertension among patients with decreased functional state of kidneys was 94.5% vs. 76.8% among patients with preserved kidney function (p=0.004), prevalence of ischemic heart disease was 36.4% vs. 18.8% respectively (p=0.021). Outpatients administration rate of ACE inhibitors to patients with decreased kidney function was 18.2% and that of statins was 1.8%. Among patients with history of myocardial infarction 24.4% received aspirin, and 35.6% received another antithrombotic medication (P2Y12 platelet receptor inhibitor).
Conclusions. Arterial hypertension and history of myocardial infarction, prolonged inpatient stay were observed more frequently in patients with decreased kidney function; outpatient administration of ACE inhibitors, statins and antithrombotic medications to patients with history of myocardial infarction and decreased kidney functional ability was rare.
About the authors
City Polyclinic №218; Healthcare Department of North-Eastern Administrative District
City Polyclinic №218
Kazan State Medical University
Kazan State Medical University
References
Концепция долгосрочного социально-экономического развития Российской Федерации на период до 2020 г. Распоряжение Правительства РФ. 2008; 1662-р.
Моисеев В.С., Мухин Н.А., Смирнов А.В. Клинические рекомендации. Сердечно-сосудистый риск и хроническая болезнь почек: стратегии кардионефропротекции. Рос. кардиол. ж. 2014; 8 (112): 7-37.
Эрлих А.Д., Грацианский Н.А. Российский регистр острого коронарного синдрома «РЕКОРД-3». Характеристика пациентов и лечение до выписки из стационара. Кардиология. 2016; (4): 16-24.
Avezum A., Makdisse M., Spencer F. et al. Impact of age on management and outcome of acute coronary syndrome: observations from the Gloal Registry of Acute Coronary Events (GRACE). Am. Heart J. Jan. 2005; 149 (1): 67-73. http://dx.doi.org/10.1016/j.ahj.2004.06.003
Culleton B.F., Larson M.G., Wilson P.W. et al. Cardiovascular disease and mortality in a community-based cohort with mild renal insuffiency. Kidney Int. 1999; 56: 2214-2219. http://dx.doi.org/10.1046/j.1523-1755.1999.00773.x
Hamm C.W., Ardissino D., Boersma E. et al. Guidelines for the diagnosis and treatment of non-ST-segment elevation acute coronary syndromes. The task force for the diagnosis and treatment of non-ST-segment elevation acute coronary syndromes of the European Society of Cardiology. Eur. Heart J. 2007; 28: 1598-1660. http://dx.doi.org/10.1093/eurheartj/ehm161
Lea J.P., Greene E.L., Nicholas S.B. et al. Cardiorenal metabolic syndrome in the African diaspora: rationale for including chronic kidney disease in the metabolic syndrome definition. Ethn. Dis. 2009; 19 (Suppl. 2): 11-14.
McCullough P.A., Li S., Jurkovitz C.T. et al. CKD and cardiovascular disease in screened high-risk volunteer and general populations: the Kidney Early Evaluation Program (KEEP) and National Health and Nutrition Examination Survey (NHANES) 1999-2004. Am. J. Kidney Dis. 2008; 51 (4, suppl. 2): 38-45. http://dx.doi.org/10.1053/j.ajkd.2007.12.017
Peterson E.D., Roe M.T., Mulgund J. et al. Association between hospital process performance and outcomes among patients with acute coronary syndromes. JAMA. 2006; 295 (16): 1912-1920. http://dx.doi.org/10.1001/jama.295.16.1912
Thom T., Haase N., Rosamond W. et al. Heart disease and stroke statistics - 2006 update: report from American Heart Association Statistics Committee and Stroke Statistics Subcommittee. Circulation. 2006; 113 (6): 85-151. http://dx.doi.org/10.1161/CIRCULATIONAHA.105.171600