A case of multichamber echinococcus of the liver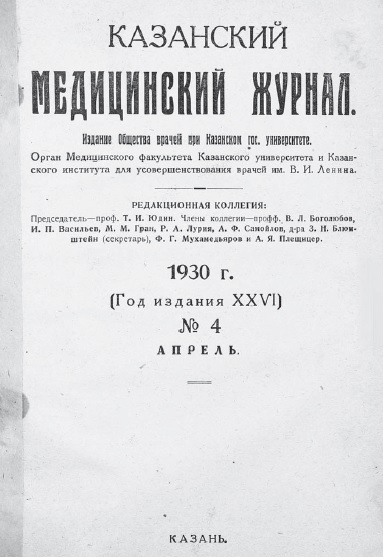 Authors: Smirnov S.A.
Issue: Vol 26, No 4 (1930)
Pages: 441-442
Section: Articles
Cite item
Abstract
Surgical section. Meeting on January 8, 1930 Dr. S. A. Smirnov A case of multicameral echinococcus of the liver, dating back to 28 years. a Kryashen man by nationality (sick for 2 years). Objectively: a large tumor with manifestations of deep fluctuation of the right lobe of the liver without signs of jaundice in the past and present. Lack of eosinophils, vague Cassoni response.
Keywords
Full Text
Др С. А. Смирнов Случай многокамерного эхинококка печени, относящийся к 28 лет. мужчине, кряшену по национальности (болен 2 года). Объективно: большая опухоль с явлениями глубокой флюктуации правой доли печени без явлений желтухи в прошлом и настоящем. Отсутствие эозинофилов, неопределенная реакция Cassoni. До операции диагноз колебался между гуммозным гепатитом и многокамерным эхинококком печени, не был окончательно исключен и рак печени. При чревосечении была обнаружена опухоль печени, после?' вскрытия которой выделилось до 3 литров гноеподобной жидкости. Окончательный? диагноз был поставлен только после патолого-анатомического обследования биопсированных кусочков и вскрытия больного после смерти, наступившей вскоре после операции. Докладчик демонстрировал макро-и микроскопические препараты печени и метастатического узла легкого. —Прения: проф. В. Л Боголюбов.
Административная часть. 1. Отчет секретаря секции д-ра И. Л. Цимхес за 1929 г. Хирургическая секция о-ва врачей при Казанском университете существует 4 года. В отчетном году было 14 заседаний, т. е. .на 2 больше прошлого' года. Посещаемость заседаний в среднем 50-55 человек. На заседаниях было сделано 22 доклада и 30 демонстраций, т. о. на 5 больше по сравнению с прошлым годом. Одно заседание было совместно с О-вом рентгенологов и радиологов- г. Казани. 0 докладами, между прочим, выступали слушатели-врачи Института усовершенствования врачей.
Перевыборы президиума: Президиум избран в составе председателя проф. В. Л. Боголюбова и тов. председателя проф. Я. М. Брускина,. А. В. Вишневского и М. 0. Фридланда. Секретари: д-ра Н. А. Герасимова, Садыкова, С. А. Смирнов и II. Л. Цимхес.
Секретарь 11. Цимхес.
About the authors
Author for correspondence.
Email: info@eco-vector.com
Russian Federation