Cyclopia due to abnormalities of other organs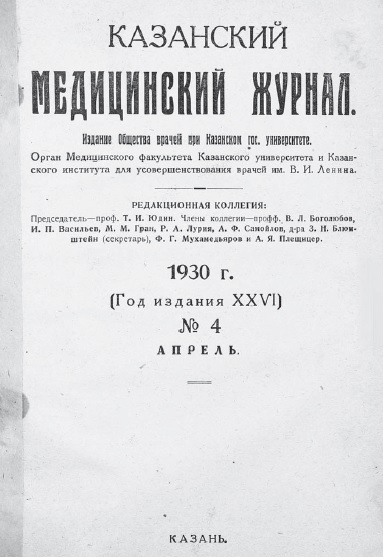 Authors: Ognev B.V.
Issue: Vol 26, No 4 (1930)
Pages: 441-441
Section: Articles
Cite item
Abstract
Surgical section.
Meeting on January 8, 1930
Dr. B.V. Ognev. Cyclopia due to abnormalities of other organs. The description concerns the corpse of a female infant, 4 SNT. lengths. Ugliness is expressed by the presence of a single eye in the middle, in the place of the nose, and a nasal trunk above it. The upper and lower limbs have 6 fingers. Underdevelopment of the cerebral hemispheres.
Keywords
Full Text
Д-р Б. В. Огнев. Циклопия в связи с аномалиями других органов. Описание касается трупика младенца женского пола, 4 снт. длин. Уродство выражается присутствием посредине, на месте носа, одиночного глаза и над ним носового хобота. Верхние и нижние конечности имеют по 6 пальцев. Недоразвитие полушарий головного мозга. Микроскопическое исследование глаза обнаружило отсутствие роговицы, наличие одного хрусталика, глиозной ткани, пигментной оболочки, элементов хрящевой ткани и стекловидного тела, в. opticus имеется в единственном числе. Открытое овальное отверстие между предсердиями, резкодольчатая печень с трехкамерным желчным пузырем и дольчатая селезенка. Левая почка состоит из отдельных долек и имеет два мочеточника. Правая почка, . имея 2 гидронефротических мешка, в верхней своей трети резко дольчата. Справа 5 a. a. renales, слева 6.—Обнаружен также дивертикул Meckel'я.
About the authors
Author for correspondence.
Email: info@eco-vector.com
Russian Federation