Elephantiasis of both lower limbs and external genitalia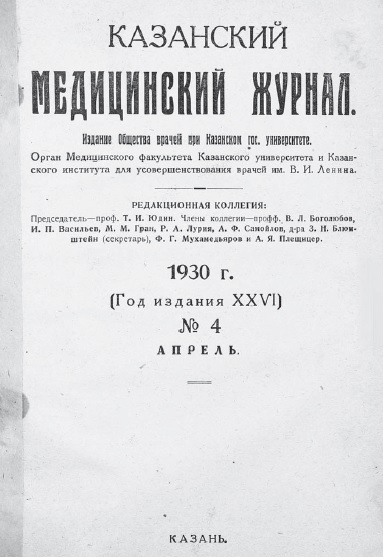 Authors: Kuznetsov I.M.
Issue: Vol 26, No 4 (1930)
Pages: 441-441
Section: Articles
Cite item
Abstract
Surgical section.
Meeting on January 8, 1930
Dr. IM Kuznetsov demonstrated a patient with widespread elephantiasis of both lower extremities and external genitalia. B-noi, a peasant, 29 years old, ill for about 12 years.
Keywords
Full Text
Д-р И. М. Кузнецов демонстрировал больного с распространенною «слоновостью обеих нижних конечностей и наружных половых органов. Б-ной, крестьянин, 29 лет, болен около 12 лет. Отмечается скудное отделение пота. Кожа суха, зудится. Сильная жажда, пьет за день 5—6 литров воды. Мочеиспускание без дизурических расстройств, до 7 литр, в сутки, уд. вес 1004—1005. В крови эозинофилия 7—8%. RW отриц. Половые железы представляются заметно уменьшенными в размерах. Невропатологи нашли гипофункцию щитовидной и половых желез. Антропометрические и конституциональные данные указывают на расстройство эндокринной системы в смысле гипофункции половых желез и гипофиза.—Повидимому, слоновость в данном случае следует поставить в связь с нарушениями в эндокринной системе.
В прениях проф. М. 0. Фридланд, д-р Ю. А. Ратнер и проф. В. А. Боголюбов отметили сложность случая, налицо полигландулярность заболевания, рекомендуют терапию препаратами щитовидной железы и даже произвести ее пересадку.
About the authors
Author for correspondence.
Email: info@eco-vector.com
Russian Federation