On the issue of "total" colon resection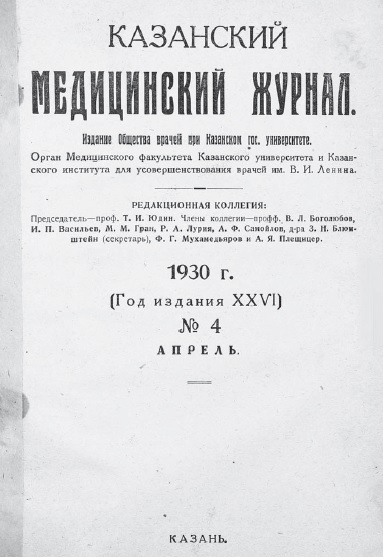 Authors: Flerov S.A.
Issue: Vol 26, No 4 (1930)
Pages: 438-438
Section: Articles
Cite item
Abstract
Meetings of medical societies. Society of Physicians at Kazan University. General Sessions Session 18 March 1930
Priv.-Assoc. S. A. Flerov. On the issue of "total" colon resection. A patient was shown, to whom prof. A. V. Vishnevsky 1 y. 3. m. Ago, complete resection of the large intestine with anastomosis between the ileum and the lower part of the fl. sygmoideae.
Keywords
Full Text
Прив.-доц. С. А. Флеров. К вопросу о "тотальной" резекции толстых кишек. Демонстрирована больная, которой проф. А. В. Вишневским 1 г. 3. м. тому назад произведена полная резекция толстого кишечника с анастомозом между подвздошной кишкой и нижней частью fl. sygmoideae. Анэстезия инфильтрационная (1700 куб. 1/4°/0 новокаина) по методике проф. А. В. Вишневского. Больная чувствует себя прекрасно. Неподдававшиеся лечению запоры,, из-за чего и была предпринята операция, прошли. Прибыла в весе на 10.5 к" Операция редкая (Dane—50 случ. с 8,8% и Pauchef-15 случ. с 6,6% смертности). Инфильтрационная анэстезия применена проф. А. В. Вишневским при означенной операции второй раз (первая больная перенесла операцию тоже благополучно). Что же касается значения этой операции, то оно должно быть велико,, поскольку дело касается проблемы борьбы с исходящей из пришедшего в негодность толстого кишечника аутоинфекцией и аутоинтоксикацией, борьбы с прежде- i временной изношенностью и смертью организма.—Прения: Д-ра Гомаев, Шерм а н, проф. Вишневский.
About the authors
Author for correspondence.
Email: info@eco-vector.com
Russian Federation