Priv.-assoc. A. N. Fedorovsky. The incidence of venereal diseases of workers and peasants of the Donetsk basin. Page 176. Kharkov. 1930. Ed. "Scientific Thought". Price 1 p . 50 K.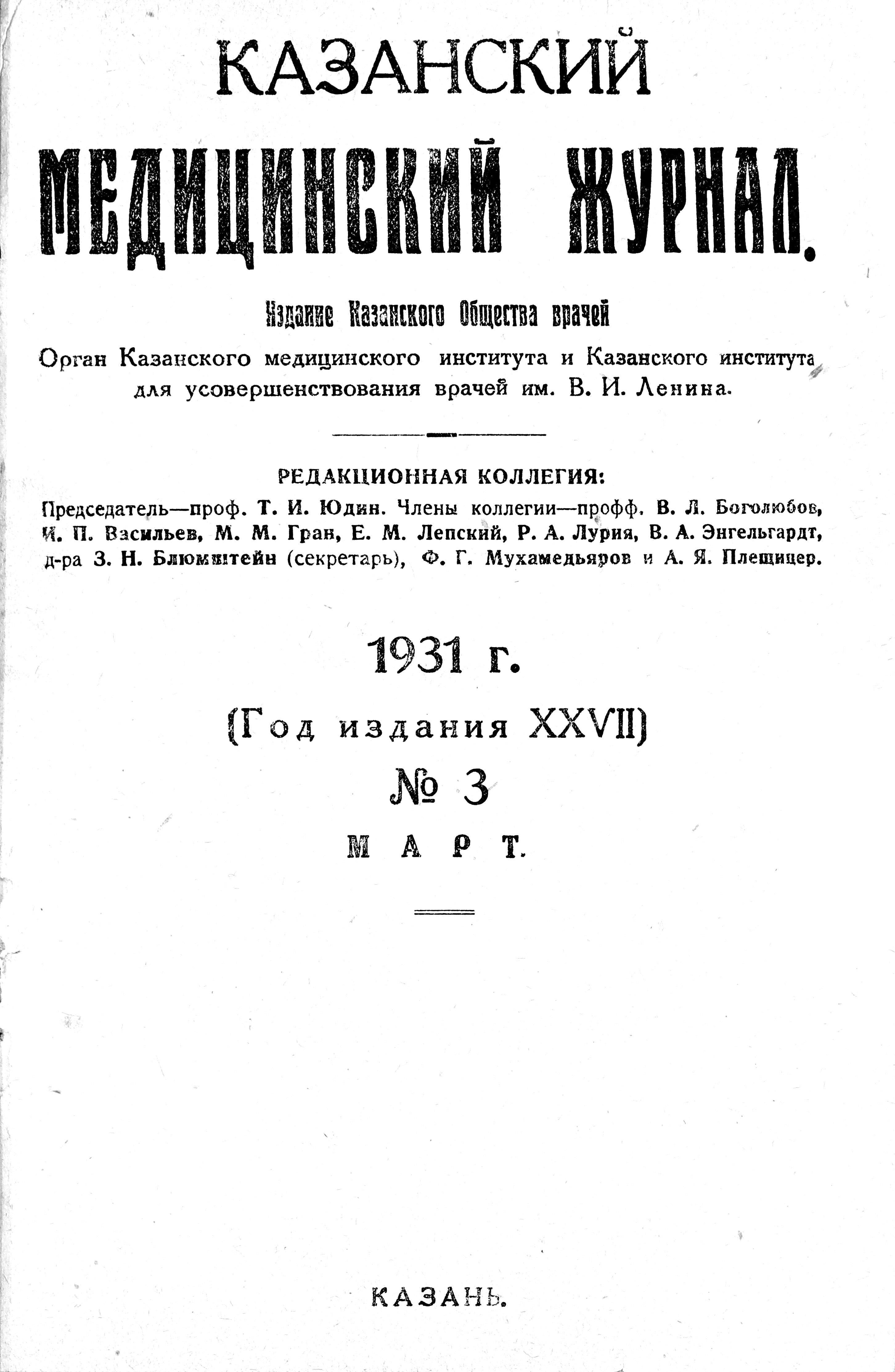 Authors: Breitman M.Y.
Issue: Vol 27, No 3 (1931)
Pages: 321-321
Section: Bibliography and reviews
ID: 106951
Cite item
Abstract
People's Commissar of Health S. Kantorovich finds that the work of the priv.-assoc. A. N. Fedorovsky, which is the result of the development and analysis of materials collected by the expeditionary survey of the State Venereological Institute conducted under the direct supervision of the author, exhaustively highlights not only the degree of venerealism of individual surveyed groups of workers and peasantry, but also reveals along with this demographic, housing, household and industrial data inherent in the working-peasant population of Donbass which further increases the value of a real scientific study.
Keywords
Full Text
Народный Комиссар Здравоохранения С. Канторович находит, что работа прив.-доц. А. Н. Федоровского, являющаяся результатом разработки и анализа материалов, собранных экспедиционным обследованием Государственного венерологического ин-та, проведенным под непосредственным руководством автора, исчерпывающе освещает не только степень пораженности венеризмом отдельных обследованных групп рабочих и крестьянства, но и выявляет наряду с этим данные демографического, жилищного, бытового и производственного характера, присущие рабоче-крестьянскому населению Донбасса, что еще больше увеличивает ценность настоящего научного исследования.
Но ценность предлагаемого труда прив.-доц. А. Н. Федоровского не исчерпывается только ее практическим значением для органов здравоохранения Донбасса, черпающих из работы богатый материал, необходимый для правильного направления их профилактической и лечебной деятельности в борьбе с венеризмом,—настоящая работа имеет большое научно-методологическое значение, всесторонне и глубоко освещая весьма сложные вопросы заболеваемости венерическими болезнями и обогащая ценными данными эту пока еще сравнительно мало изученную область народной патологии.
После общего изложения методики изучения заболеваемости четыре отдела книги посвящены: 1) социально-гигиенической характеристике обследованного рабочего населения; 2) заболеваемости рабочих венерическими болезнями; 3) социально-гигиенической характеристике обследованного сельского населения и 4) заболеваемости венерическими болезнями крестьян. Приведена обширная литература русских и украинских работ, а в приложении даны образцы соответственных статистических карточек.
About the authors
Author for correspondence.
Email: info@eco-vector.com

Prof.
Russian Federation