Prof. S. A. Tomilin. Socio-hygienic assessment of infant mortality based on International and Ukrainian statistics. Page 77. Kharkiv. 1930. Publishing house "Scientific Thought". The price is 95 K.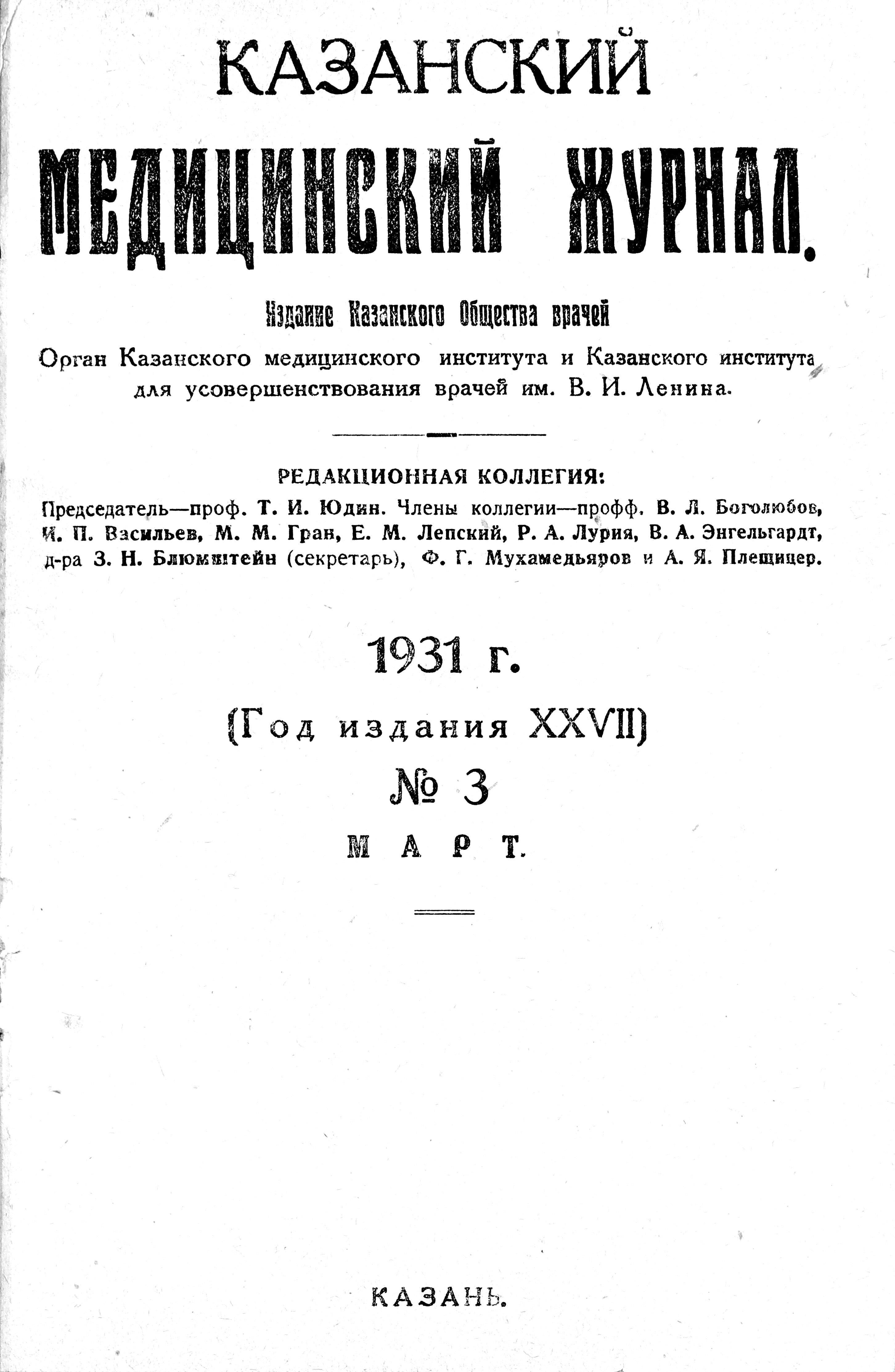 Authors: Breitman M.Y.
Issue: Vol 27, No 3 (1931)
Pages: 320-321
Section: Bibliography and reviews
ID: 106950
Cite item
Abstract
The need clearly felt among those working in the field of child and motherhood protection to understand the basic statistical materials on child mortality prompted the newly formed Department of Social Hygiene and Pathology at the Ukrainian Institute of Okhmatdet named after N. K. Krupskaya to undertake a number of works to clarify the level and nature of child mortality in Ukraine.
Keywords
Full Text
Ясно ощущаемая среди работающих в области охраны детства и материнства потребность разобраться в основных статистических материалах по детской смертности побудила недавно сформированное Отделение социальной гигиены и патологии при Украинском институте Охматдета имени Н. К. Крупской предпринять ряд работ по выяснению уровня и характера детской смертности на Украине. Настоящая работа является введением к ряду последующих работ, ставящих своей задачей детальный анализ факторов детской смертности в более ограниченных территориальных масштабах. Основная цель ее—дать общую ориентировку в проблеме детской смертности по материалам международной и украинской демографической статистики последнего времени. Частично были использованы исследования, произведенные статистическим бюро Наркомздрава УССР и Харьковской научно-исследовательской кафедрой социальной [гигиены. Некоторые существенные стороны в проблеме детской смертности (как, напр., участие сифилиса и туберкулеза) остались незатронутыми, отчасти по причине малочисленности материала, освещающего этот вопрос, отчасти потому, что они должны стать объектом самостоятельного изучения. Относительная недостаточность материалов по современной статистике детской смертности в РСФСР не позволяла произвести необходимых сопоставлений уровня и причин детской смертности по отдельным частям Советского Союза в желательном размере. Все цифровые исчисления и статистические показатели, приведенные в тексте, составлены на основании официальных статистических источников, изданий международного статистического института и статистических сборников отдельных государств.
Проф. С. А. Томилин рассматривает следующие вопросы: 1) социально-гигиеническое значение детской смертности; 2) мировая статистика детской смертности и ее динамика; 3) анализ детской смертности на Украине; 4) детская смертность в отдельные периоды первого года жизни; 5) сезонные колебания детской смертности до одного года по месяцам года; 6) территориальное распределение детской смертности на Украине; 7) биологические факторы детской смертности; 8) бытовые и социальные факторы детской смертности; 9) причины детской смертности; 10) борьба с детской смертностью в прошлом и настоящем; 11) основные заключения, 12) методика изучения детской смертности.
About the authors
Author for correspondence.
Email: info@eco-vector.com

Prof.
Russian Federation