Professor Grotian on the planned nutrition of the population in the USSR. (By letter from Berlin)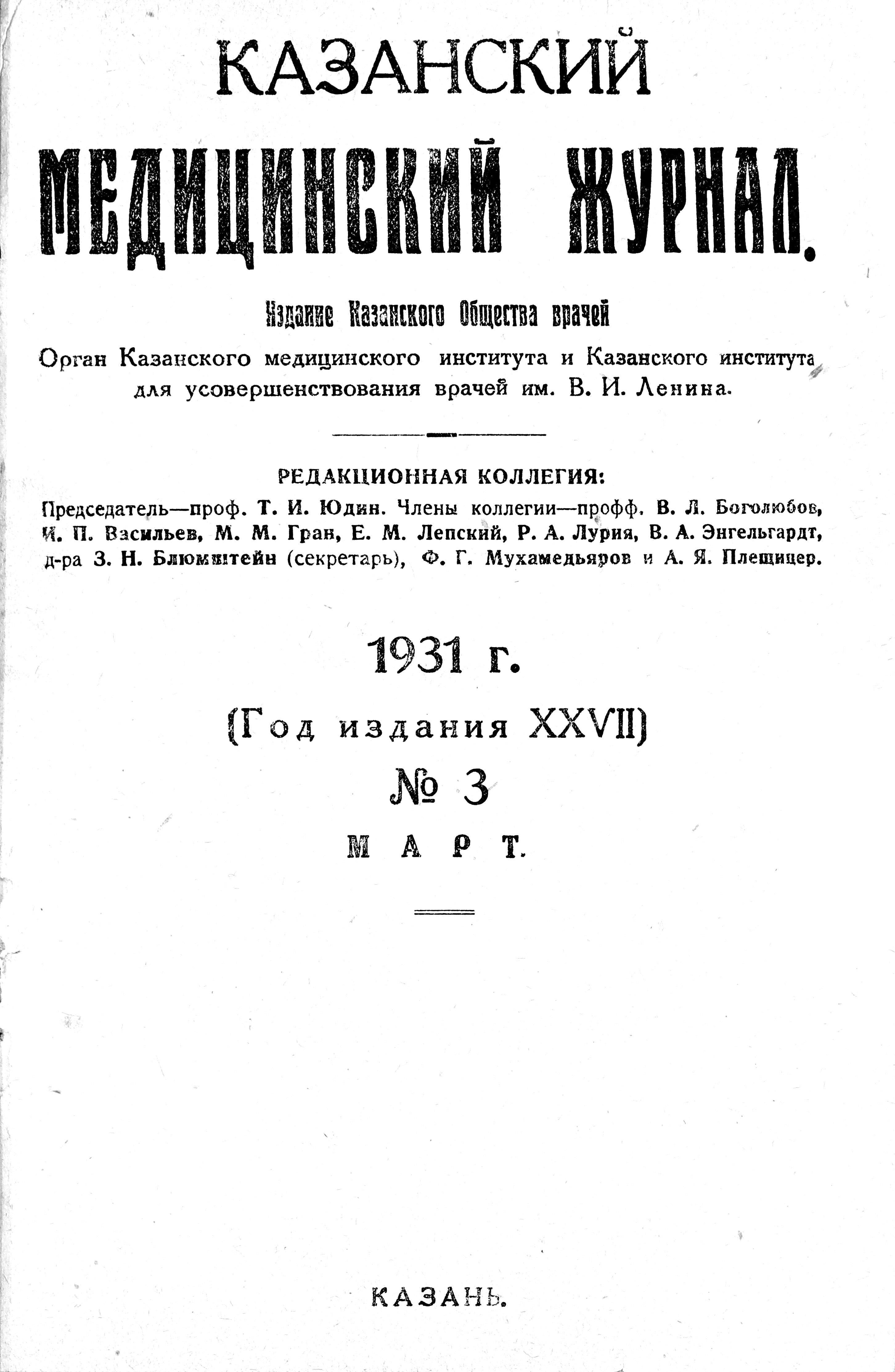 Issue: Vol 27, No 3 (1931)
Pages: 293-294
Section: Socialist healthcare and dialectics in medicine
ID: 106866
Cite item
Abstract
Associate Professor of the Department of Social Hygiene of the Kazan Medical Institute Dr. S. M. Schwartz is currently on a business trip abroad for scientific improvement and has been working since February at the Hygienic Institute of the University of Berlin with Prof. Hahn. At the same time, he listens to a course of lectures on social hygiene from Prof. Grotiana. The letters sent by him to the department in Kazan are becoming more and more interesting. In the last letter he gives an interesting summary of the lecture by Prof. Grotiana, dedicated to the issue of nutrition. In general , he characterizes the lectures of Prof. Grotiana as very interesting, saturated with an unusually rich factual and digital material; such were the lectures devoted to the issue of nutrition.
Keywords
Full Text
Доцент кафедры социальной гигиены Казанского мединститута д-р. С. М. Шварц ныне находится в заграничной командировке для научного усовершенствования и работает с февраля месяца в Гигиеническом институте Берлинского университета у проф Hahn. Одновременно он слушает курс лекций по социальной гигиене у проф. Гротьяна. Письма, направленные им на кафедру в Казань, делаются все более и более интересными. В последнем письме он дает интересную краткую информацию о лекции проф. Гротьяна, посвященную вопросу о питании. Вообще он характеризует лекции проф. Гротьяна как очень интересные, насыщенные необычайно богатым фактическим и цифровым материалом; таковы были и лекции, посвященные вопросу о питании.
Основная мысль лекций проф. Гротьяна сводилась к следующему: «питание населения отражает эпохи и формы народно-хозяйственной жизни, в которой живет парод: так, первобытное человечество, жившее в эпоху «натурального хозяйства» (Naturwirtschaft), питалось хотя и однообразно, но с точки зрения гигиенической по естественному качеству и калорийной ценности продуктов весьма- удовлетворительно; полную противоположность представляет массовое, народное питание в нашу капиталистическую, индустриальную эпоху, когда господствует «рыночное» питание, эпоху, которую он именует «Marktwirtschaft»; в эту эпоху масса населения, по качественной и колорийной ценности продуктов, питается определенно голодно и в большой части суррогатами; богатые и зажиточные классы, наоборот, питаются изысканно и сверх насыщенно, с избытком мяса, жиров, с избытком белого хлеба, игнорируя черный, фактически наиболее здоровый хлеб. (Надо отметить, что немцы последние годы усиленно пропагандируют черный хлеб опять-таки по причинам не столько гигиенического, сколько экономического характера. Примечание передающего письмо д-ра Шварца). И сколько бы мы, гигиенисты, прибавляет проф. Гротьян, не протестовали против такого положения—нас, гигиенистов, население слушать не будет, ибо диктуем социальные законы питания не мы, гигиенисты, не наука, а «рынок», т. е. система социально-экономического строя, в котором народ живет. Благодаря этому мы (немцы), будучи народом бедным, вынуждены ежегодно ввозить на многие миллиарды марок дорого стоящие продукты питания, а паше сельское хозяйство находится на пути к гибели.
«Но, говорит проф. Гротьян, есть еще один вид народного хозяйства—ныне существующий в СССР. Этот вид хозяйства проф. Гротьян называет «Bedarfwirtschaft». Это плановое хозяйство—наиболее правильное разрешение вопроса. Не знаю, добавляет проф. Гротьян, сможет ли Советское правительство выполнить свой намеченный пятилетний план, но самый факт существования такого плана уже имеет колоссальное значение.»
Таково интересное и ценное признание проф. Гротьяна по вопросу о советском плановом питании населения (из письма д-ра Шварц к проф. Гран).