Digital radiography in the diagnosis of coronary calcinosis: capabilitites and perspectives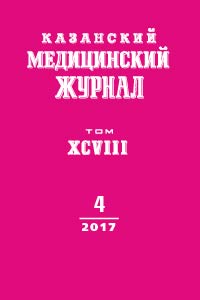 Authors: Sultanova MD. 1
Affiliations:

Azerbaijan Medical University

Issue: Vol 98, No 4 (2017)
Pages: 640-644
Section: Clinical experiences
Abstract
Aim. To study the capabilities of digital radiography in the diagnosis of coronary calcifications and to perform a comparative analysis of the received results with the results of multidetector computed tomography.
Methods. We analyzed in a comparative aspect the results of examination of 90 patients who underwent both types of diagnostic procedures. Among the patients, 46 were males, 34 were females, the average age was 59±4.3 years, and the age of male patients was significantly higher than that of female patients. Statistical analysis was performed using variational, discriminant, correlation methods, evidence-based medicine methods and ROC-analysis.
Results. A comparative analysis of the results showed that the reason, why coronary calcifications visualized in all arteries at multidetector computed tomography are not visible on digital X-ray, is their decreased firmness, so these calcifications were soft enough. Visualization of calcifications on digital chest X-ray is limited to certain calcium score values, which for anterior interventricular branch of left coronary artery is 355, for circumflex branch of the left coronary artery - 385, for right coronary artery - 367, for left main coronary artery - 393, for aortic arch - 396. Coronary calcifications with similar and higher calcium score values can be detected with digital radiography, which allows integrating this method in screening for cardiovascular diseases risk. The sensitivity, specificity and overall value of digital radiography for the detection of coronary calcifications were 59.5±3.3, 85.5±2.9 and 70.0±2.4, respectively.
Conclusion. Detection of coronary calcifications in digital radiography is limited to certain calcium score values; in all coronary arteries at multidetector computed tomography, as the calcium score of coronary calcifications increases, the sensitivity and spesifity of their visualization in digital X-ray examination increase as well.
About the authors
Azerbaijan Medical University
Author for correspondence.
Email: mic_amu@mail.ru
Baku, Azerbaijan

References
Finegold J.A., Asaria P., Francis D.P. Mortality from ischaemic heart disease by country, region, and age: Statistics from World Health Organisation and United Nations. Int. J. Cardiol. 2013; 168 (2): 934-945. doi: 10.1016/j.ijcard.2012.10.046.
Mozaffarian D., Benjamin E.J., Go A.S. et al. Heart disease and stroke statistics-2015 update: a report from the American Heart Association. Circulation. 2015; 131: e29-e322. doi: 10.1161/CIR.0000000000000152.
Nichols M., Townsend N., Scarborough P., Rayner M. Cardiovascular disease in Europe 2014: epidemiological update. Eur. Heart J. 2014; 35 (42): 2950-2959. doi: 10.1093/eurheartj/ehu299.
WHO launches «Global Hearts Initiative» (Global Hearts): 22 September 2016. https://communitymedicine4asses.wordpress.com/2016/09/22/who-launches-global-hearts-initiativeglobal-hearts-22-september-2016/ (дата обращения: 02.06.2017).
Shaw L.J., Raggi P., Schisterman E. et al. Prognostic value of cardiac risk factors and coronary artery calcium screening for all-cause mortality. Radiology. 2003; 228: 826-833. doi: 10.1148/radiol.2283021006.
Lenk R. Röntgendiagnose der koronarsklerose in vivo. Fortschr. Röntgenstr. 1927; 35: 1265-1268.
Cултанова М.Дж., Азизов В.А., Садыгова Т.А. Возможности цифровой рентгенографии в диагностике кальциноза коронарных артерий у пациентов с ревматоидным артритом. Казанский мед. ж. 2016; 97 (2): 236-239. doi: 10.17750/KMJ2016-236.
Elif T., Fehmi K. Clinical implications of chest X-ray parameters in evaluating patients with cardiac dyspnea. Eur. J. Med. 2008; 40: 133-136. PMID: 25610047.
Souza A.S., Bream P.R., Elliot L.P. Chest film detection of coronary artery calcification: the value of the CAC triangle. Radiology. 1978; 129: 7-10. doi: 10.1148/129.1.7.
Mahnken A.H., Wein B.B., Sinha A.M. et al. Value of conventional chest radiography for the detection of coronary calcifications: comparison with MSCT. Eur. J. Radiol. 2009; 69 (3): 510-516. doi: 10.1016/j.ejrad.2007.10.016.
Jong Shin Woo, Weon Kim, Se Hwan Kwon et all. Aortic arch calcification on chest X-ray combined with coronary calcium score show additional benefit for diagnosis and outcome in patients with angina. J. Geriatr. Cardiol. 2016; 13 (3): 218-225. doi: 10.11909/j.issn.1671-5411.2016.03.006.
Watanabe K., Yokoyama K., Yoshida H. Chest X-ray may serve as a screening examination for coronary artery calcification in dialysis patients. Kidney. International official journal of the international society of nephrology. 2014; 85 (3): 710. doi: 10.1038/ki.2013.509.