Diagnostic aspects of closed abdominal injuries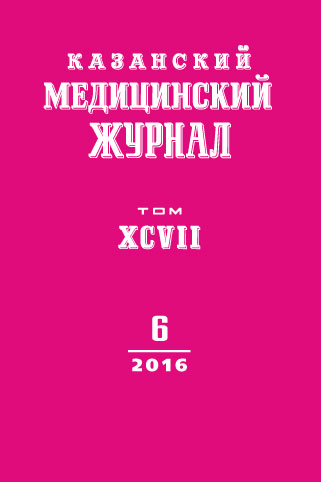 Cite item
Abstract
Aim. To study diagnostic value of various diagnostic methods for patients with closed abdominal injury, to develop a diagnostic algorithm to make a reasonable conclusion about the amount and severity of injuries of the abdomen.
Methods. Various diagnostic methods used in closed abdominal injuries from 120 patients admitted to Surgical Department №2 of Kazan city clinical hospital №7 from 2007 to 2015 were analyzed. Majority of victims (65%) with closed abdominal trauma were males aged 20 to 50 years.
Results. Efficiency of diagnostic program for patients with closed abdominal injury used in clinical practice was studied. In a closed abdominal trauma, injury of abdominal organs was detected in 52.5% of patients. 71.4% of those injuries were isolated and 28.6% were concomitant. According to frequency of injuries liver took the first place 15 (23.8%), followed by spleen on the second place (14; 22.2%) and kidneys (12; 19.1%) and intestine (12; 19.1%) on the third, bladder on the fourth (7; 11.1%), and pancreas on the fifth place (3; 4.8%). Importance of radiological methods and laparoscopy was demonstrated. Clinical examination and laboratory diagnostic techniques allow making a timely diagnosis in only 40% of victims. Informativity of radiologic study was 64%. The accuracy of ultrasound in damaged kidneys was 100%, that in rupture of liver was 72%, of spleen, 69%, and of the intestine (0%). Diagnostic accuracy of laparoscopy was 98.9%.
Conclusion. Experience and extensive acquaintance with modern literature allowed the authors to present the algorithm of examination of patients with suspected closed abdominal trauma.
About the authors
Kazan state medical academy
Kazan state medical academy
Kazan state medical academy
City clinical hospital №7
Kazan state medical academy
City clinical hospital №7
References
Алимов А.Н., Исаев А.Ф., Сафронов Э.П. и др. Хирургическая тактика и перспективы эндохирургии закрытых повреждений живота при тяжёлой сочетанной травме. Хирургия. 2006; (1): 34-37.
Анисимов А.Ю. Организация хирургической помощи поражённым с травмами живота при чрезвычайных ситуациях мирного времени. Казанский мед. ж. 2001; (3): 203-207.
Горшков С.З., Волков В.С. Закрытые повреждения живота. М.: Медицина. 1978; 214 с.
Касумьян С.А., Некрасов А.Ю., Покусаев Б.А. и др. Возможности лапароскопической технологии в ургентной хирургии. Эндоскоп. хир. 2001; (2): 3.
Лосев Р.З., Кузнецов В.В., Чирков Ю.В. и др. Значение неотложной лапароскопии и математического прогнозирования в комплексных диагностических мероприятиях при сочетанной травме. Вестн. хир. им. Грекова. 2004; (2): 56-59.
Майстренко Н.А. Неотложная эндовидеохирургия острых заболеваний, ранений и травм живота. СПб.: Комитет по здравоохранению Правительства Ленинградской области. 2001; 56 с.
Молитвословов А.Б., Бокарев М.И., Мамонтов Р.Е. и др. Диагностика повреждений живота при сочетанной травме. Хирургия. 2002; (9): 22-26.
Ситников В.Н., Черкасов М.Ф., Литвинов Б.И. и др. Видеоэндохирургическая диагностика и лечение повреждений живота при сочетанной травме. Хирургия. 2006; (7): 45-50.
Chen R.J., Fang J.F., Lin B.C., Kao J.L. Laparoscopic decompression of abdominal compartment syndrome after blunt hepatic trauma. J. Surg. Endosc. 2000; 10 (14): 966-968.
Gastinger J., Schilling H., Recknagel F. Zu Anteil und Schwere der Schadel. - Thorax-Abdominal Verletzungen beim Polytraume des Schweregrades. Zbl. Chir. 1990; 115 (4): 201-208.
Toutouzas K.G., Velmahos G.C., Kaminski A.K. et al. Leukocytosis after posttraumatic splenectomy: a physiologic event or sign of sepsis? Arch. Surg. 2002; 137 (8): 924-928. http://dx.doi.org/10.1001/archsurg.137.8.924