Novel methodological approaches in the system of early diagnosis of mastopathy with the use of computer dermography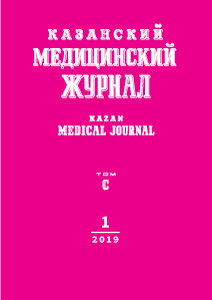 Authors: Merkulova GA1, Pegova EV1
Affiliations:

Scientific Research Center «Arctica» of the Far Eastern Branch of the Russian Academy of Sciences

Issue: Vol 100, No 1 (2019)
Pages: 117-124
Section: Theoretical and clinical medicine
Abstract
Aim. Optimization of the early detection of mastopathy on screening examinations due to the inclusion of data received with the use of computer dermography into the algorithm of complex diagnosis.
Methods. Integral evaluation of the health state was performed with the use of computer dermography as part of the diagnostic complex DgKTD-01. Fertile females (n=107) were divided into three groups. The study group (n=36) included the female patients with differentiated mastopathy. The control group (n=51) united the females complaining of discomfort in breasts, engorgement and tenderness. Parameters of the baseline level in the study group and the control group were studied; a prognostic model of mastopathy was developed. Comparative analysis of identified characteristics was performed in the comparison group.
Results. Females from the study group are in the group of adaptation risk with formation of premorbid states and diseases. The prognostic model of mastopathy was consistent disorder of the tonic activity of basic functions F2' and F3', functions F5-1', F5-2', F5-3' with the extremum in segments Th4-6 in regimen 2 which allowed determining females with the risk of the development of this pathology in comparison group.
Conclusion. Method of computer dermography serves as a methodological approach to revealing pre-nosological states which alllows using it as an additional non-invasive diagnostic screening test to determine mastopathy risk groups; the obtained results give ground to continue the further studies and improvement of the diagnosis on a large clinical material and to development of computed system for interpretation of the obtained data.
Keywords
G A Merkulova
Scientific Research Center «Arctica» of the Far Eastern Branch of the Russian Academy of Sciences
Author for correspondence.
Email: galinmer@gmail.com
Magadan, Russia
E V Pegova
Scientific Research Center «Arctica» of the Far Eastern Branch of the Russian Academy of Sciences
Email: galinmer@gmail.com
Magadan, Russia
Andreeva E.N., Khamoshina M.B., Rudneva O.D. Prolactin and mammary glands. Ginekologiya. 2012; 14 (1): 12–16. (In Russ.)
Beznoshchenko G.B., Kravchenko E.N., Kropmaer K.P. Modern pathogenetic aspects of benign mammary dysplasia. Mat' i ditya v Kuzbasse. 2018; (1): 93–96. (In Russ.)
Kravets E.B., Slonimskaya E.M., Stolyarova V.A., Trynchenkova N.N. Thyroid disease as one of the factors in the development of masto­pathy. Byulleten' sibirskoy meditsiny, 2004; (1): 110–116. (In Russ.)
Radzinskiy V.E., Ordiyants I.M., Maslennikova N.M., Pavlova E.A. Mammary glands and gynecological diseases: from the unity of pathogenetic views to practiсal solutions. Zdorov;e zhenshchiny. 2016; (6): 104–109. (In Russ.)
Trynchenkova N.N., Slonimskaya E.M., Kravets E.B. Influence of thyroid status on the formation of dishormonal breast diseases. Sibirskiy onkologicheskiy zhurnal. 2005; (4): 21–26. (In Russ.)
Collins L.C., Aroner S.A., Connolly J.L. et al. Breast cancer risk by extent and type of atypical hyperplasia: An update from the Nurses' Health Studies. Cancer. 2016; 122 (4): 515–520. doi: 10.1002/cncr.29775.
Nishanova Yu.Kh., Khaydarova G.B. Modern possibilities of diagnosis of fibrocystic breast mastopathy. Molodoy uchenyy. 2015; (4). 100–104. (In Russ.)
Dyrstad S.W., Yan Y., Fowler A.M., Colditz G.A. Breast cancer risk associated with benign breast disease: systematic review and meta-analysis. Breast Cancer Res. Treat. 2015; 149 (3): 569–575. doi: 10.1007/s10549-014-3254-6.
Baevskiy R.M., Berseneva A.P. Otsenka adaptatsionnykh vozmozhnostey organizma i risk razvitiya zabolevaniy. (Estimation of ada­ptation possibilities of organism and risk of development of diseases.) Мoscow: Meditsina. 1997; 236 р. (In Russ.)
Lebedev Yu.A., Shaba­nov G.A., Rybchenko A.A. Computer dermograph for topical diagnosis of foci of pathology of human internal organs. Meditsinskaya technika. 2007; (5): 37–39. (In Russ.)
Shabanov G.A., Rybchenko A.A., Maksimov A.A. Developing a system for monito­ring individual health for healthy people. Vestnik DVO RAN. 2004; (3): 139–154. (In Russ.)
Merkulova G.A., Pegova E.V. Assessment of reproductive health at the stage of medical examinations of workers. Mezhdunarodnyy nauchno-­issledovatel'skiy zhurnal, 2017; (6): 65–66. (In Russ.)
Rybchenko A.A., Shabanov G.A., Pegova E.V., Merkulova G.A. Metodika registratsii i analiza dannykh po otsenke individual'nogo zdorov'ya s pomoshch'yu diagnosticheskogo kompleksa DgKTD-01. (Method of regi­stration and analysis of data of the assessment of ­individual health using the diagnostic complex DgKTD-01.) Study methodological guide. Vladivostok: Izdatel'stvo Dal'nevostochnogo universiteta, 2009: 96 р. (In Russ.)
Shabanov G.A., Rybchenko A.A., Pegova E.V., Merkulova G.A. Method of diagnosing the state of internal organs (stage of inflammatory process). The patent for the invention №2321340. Bull. №10 issued on 10.04.2008. (In Russ.)