Comparative evaluation of the results of anthropometric indicators and measurements of body composition by bioimpedancemetry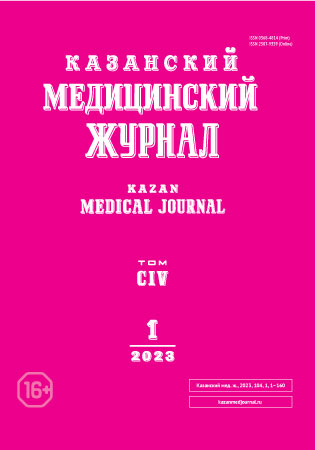 Cite item
Full Text
Open Access

Access granted

Subscription or Fee Access
Abstract
Background. Various anthropometric and instrumental methods are used to assess the correspondence between height and body weight of a person.
Aim. Carrying out a comparative assessment of the results of anthropometric indicators and bioimpedance ana­lysis among men and women — fitness center visitors.
Material and methods. A cross-sectional study of 58 men and 62 women was carried out. Participants underwent standard anthropometry (measurement of height with a stadiometer; body weight with an electronic scale; measurement of waist circumference and hip circumference with a centimeter tape) and bioimpedancemetry. Statistical processing was carried out by non-parametric methods: to study the relationship between the phenomena, the Spearman rank correlation coefficient was used, the differences in the average indicators were calculated by the Student's t-test, relative indicators — by the Pearson χ2 test, the differences were considered statistically significant at p <0.05.
Results. Correlation analysis of the main calculated anthropometric and bioimpedance parameters established a strong relationship between body mass index and adipose tissue content (r=0.87). According to the data of bioimpedance analysis in the group of men, there was a significant predominance of muscle mass over fat, both in normal and overweight (p <0.0001). In the course of a comparative assessment of body mass index and bioimpedance analysis indicators, it was found that the use of body mass index is more often associated with overdiagnosis of overweight (p=0.0067). In the group of women, bioimpedancemetry analysis showed the predominance of muscle tissue over adipose tissue only with a normal body mass index, with overweight, the predominance of adipose tissue was found (p <0.0001). According to the results of bioimpedancemetry, the frequency of the "norm" decreased by 1.5 times compared with the body mass index (p=0.0017), the proportion of obesity increased by 4 times (p=0.0017) and the proportion of overweight — almost 1.4 times.
Conclusion. A comprehensive assessment of the body composition by bioimpedancemetry in men established the predominance of muscle mass over fat, which made it possible to reduce the frequency of overdiagnosis of excess body weight by 2 times; in women, body mass index was associated with underdiagnosis of overweight.
Full Text

About the authors
Voronezh State Medical University named after N.N. Burdenko
Author for correspondence.
Email: tasha2654@mail.ru
ORCID iD: 0000-0002-1413-5980

PhD Stud., Depart. of Epidemiology
Russian Federation, Voronezh, Russia
Voronezh State Medical University named after N.N. Burdenko
Email: natalia_gabb@mail.ru
ORCID iD: 0000-0001-5042-3739

M.D., D. Sci. (Med.), Prof., Depart. of Epidemiology
Russian Federation, Voronezh, Russia
Voronezh State Medical University named after N.N. Burdenko
Email: mail@vrngmu.ru
ORCID iD: 0000-0002-2424-2974

M.D., D. Sci. (Med.), Prof., Rector
Russian Federation, Voronezh, Russia
Voronezh State Medical University named after N.N. Burdenko
Email: mamchik1949@yandex.ru
ORCID iD: 0000-0002-6952-0018

M.D., D. Sci. (Med.), Prof., Head of Depart., Depart. of Epidemiology
Russian Federation, Voronezh, Russia
Voronezh State Medical University named after N.N. Burdenko
Email: 9038504004@mail.ru
ORCID iD: 0000-0001-5386-9082

M.D., D. Sci. (Med.), Prof., Head of Depart., Depart. of General Hygiene
Russian Federation, Voronezh, Russia
References
Azzeh FS, Bukhari HM, Header EA, Ghabashi MA, Al-Mashi SS, Noorwali NM. Trends in overweight or obesity and other anthropometric indices in adults aged 18–60 years in western Saudi Arabia. Ann Saudi Med. 2017;37(2):106–113. doi: 10.5144/0256-4947.2017.106.
Abou Ghayda R, Duck-Young Park D, Lee JY, Kim JY, Lee KH, Hong SH, Yang JW, Kim JS, Jeong GH, Kronbichler A, Koyanagi A, Jacob L, Oh H, Li H, Yang JM, Kim MS, Lee SW, Yon DK, Shin JI, Smith L. Body mass index and mortality in patients with cardiovascular disease: An umbrella review of meta-analyses. Eur Rev Med Pharmacol Sci. 2021;25(1):273–286. doi: 10.26355/eurrev_202101_24393.
Worldwide trends in body-mass index, underweight, overweight, and obesity from 1975 to 2016: A pooled analysis of 2416 population-based measurement studies in 128.9 million children, adolescents, and adults. NCD Risk Factor Collaboration (NCD-RisC). Lancet. 2017;390(10113):2627–2642. doi: 10.1016/S0140-6736(17)32129-3.
Blinov DS, Smirnova OA, Chernova NN, Balykova OP, Lyapina SA. The results of the analysis of the students' body composition by bioimpedance method. Vestnik Mordovskogo universiteta. 2016;26(2):192–202. (In Russ.) doi: 10.15507/0236-2910.026.201602.192-202.
Chtetsov VP, Negasheva MA, Lapshina NE. The studying of body composition in adults: methodological aspects. Vestnik Moskovskogo universiteta. Seriya 23. Antropologiya. 2012;(2):43–52. (In Russ.)
Petri C, Mascherini G, Bini V, Anania G, Calà P, Toncelli L, Galanti G. Integrated total body composition versus Body Mass Index in young athletes. Minerva Pediatr. 2020;72(3):163–169. doi: 10.23736/S0026-4946.16.04439-X.
Lebiedowska A, Hartman-Petrycka M, Błońska-Fajfrowska B. How reliable is BMI? Bioimpedance analysis of body composition in underweight, normal weight, overweight, and obese women. Ir J Med Sci. 2021;190(3):993–998. doi: 10.1007/s11845-020-02403-3.
Müller MJ, Braun W, Enderle J. Beyond BMI: Conceptual issues related to overweight and obese patients. Obes Facts. 2016;9(3):193–205. doi: 10.1159/000445380.
Flegal KM, Shepherd JA, Looker AC, Graubard BI, Borrud LG, Ogden CL, Harris TB, Everhart JE, Schenker N. Comparisons of percentage body fat, body mass index, waist circumference, and waist-stature ratio in adults. Am J Clin Nutr. 2009;89(2):500–508. doi: 10.3945/ajcn.2008.26847.
Boneva-Asiova Z, Boyanov MA. Body composition analysis by leg-to-leg bioelectrical impedance and dual-energy X-ray absorptiometry in non-obese and obese individuals. Diabetes Obes Metab. 2008;10(11):1012–1018. doi: 10.1111/j.1463-1326.2008.00851.x.
Anishchenko AP, Arkhangelskaya AN, Rogoznaya EV, Ignatov NG, Gurevich KG. Comparability of anthropometrical measurements and results of the bioimpedance analysis. Vestnik novykh me-ditsinskikh tekhnologiy. 2016;23(1):138–141. (In Russ.)
Soboleva NP, Rudnev SG, Nikolayev DV, Eryukova ТA, Kolesnikov VA, Melnitchneko OA, Ponomareva EG, Starunova OA, Sterlikov SA. The bio-impedance screening of population in health centers: prevalence of surplus body mass and obesity. Rossiyskiy meditsinskiy zhurnal. 2014;20(4):4–13. (In Russ.)
Brener A, Peleg I, Rosenfeld T, Kern S, Uretzky A, Elkon-Tamir E, Rosen G, Levinson H, Israeli G, Interator H, Lebenthal Y. Beyond body mass index — body composition assessment by bioimpedance in routine endocrine practice. Endocr Pract. 2021;27(5):419–425. doi: 10.1016/j.eprac.2020.10.013.
De-Mateo-Silleras B, de-la-Cruz-Marcos S, Alonso-Izquierdo L, Camina-Martín MA, Marugán-de-Miguelsanz JM, Redondo-Del-Río MP. Bioelectrical impedance vector analysis in obese and overweight children. PLoS One. 2019;14(1):e0211148. doi: 10.1371/journal.one.0211148.
Nikolaev DV, Shchelykalina SP. Lektsii po bioimpedansnomu analizu sostava tela cheloveka. (Lectures on bioimpedance analysis of human body composition.) Moscow: RIO TsNIIOIZ MZ RF; 2016. 152 p. (In Russ.)
Newman AB, Lee JS, Visser M, Goodpaster BH, Kritchevsky SB, Tylavsky FA, Nevitt M, Harris TB. Weight change and the conservation of lean mass in old age: the Health, Aging and Body Composition Study. Am J Clin Nutr. 2005;82:872–878.
Guryeva AB, Alekseeva VA, Nikolaev VG. Anthropometric and bio-impendance parameters of the students of Yakutia in the context of gender differences. Journal of new medical technologies, eEdition. 2019;13(1):139–144. (In Russ.) doi: 10.24411/2075-4094-2019-16208.
Gaivoronskiy IV, Nichiporuk GI, Gaivoronskiy IN, Nichiporuk NG. Bioimpedansometry as a method of the component bodystructure assessment (review). Vestnik Sankt-Peterburgskogo universiteta. Meditsina. 2017;12(4):365–384. (In Russ.) doi: 10.21638/11701/spbu11.2017.406.
Di Vincenzo O, Marra M, Sacco AM, Pasanisi F, Scalfi L. Bioelectrical impedance (BIA) — derived phase angle in adults with obesity: A systematic review. Clin Nutr. 2021;40(9):5238–5248. doi: 10.1016/j.clnu.2021.07.035.
Marra M, Sammarco R, Cioffi I, Morlino D, Di Vincenzo O, Speranza E, Pasanisi F. New predictive equations for estimating resting energy expenditure in subjects with normal weight and overweight. Nutrition. 2021;84:111105. doi: 10.1016/j.nut.2020.111105.
Girsh YaV, Gerasimchik OA. The role and place of bioimpedance analysis assessment of body composition of children and adolescents with different body mass. Bulletin of Siberian Me-dicine. 2018;17(2):121–132. (In Russ.) doi: 10.20538/1682-0363-2018-2-121-132.
Supplementary files
Supplementary Files
Action
1.
Рис. 1. Структура показателей индекса массы тела (ИМТ) и биоимпедансного анализа в исследованных группах мужчин и женщин