Inclusion of the prepared patient relatives in the process of early rehabilitation of onco-surgical patients in the department of anesthesiology and intensive care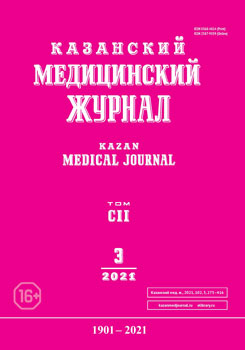 Abstract
Aim. To study the influence of the trained environment of geriatric onco-surgical patients on the quality of the interventions in the complex of early postoperative rehabilitation in the Intensive Care Unit (ICU).
Methods. The 96 patients aged 73.3±7.1 years operated on in the emergency onco-surgery clinic of the Tatarstan Cancer Center of the Ministry of Health of the Republic of Tatarstan between 2016 and 2020. Patients, similar in age and condition (American Society of Anaesthesiologists' Physical Status category IIIE) were divided into three equal groups: the first group — generally accepted measures for early rehabilitation were carried out by medical staff; the second group — the prepared relatives of the patient was additionally involved in rehabilitation; the control group — early rehabilitation was not carried out. The quality of nutritional support and measures to prevent pressure ulcers, cognitive function were assessed. Statistical processing was performed by using Microsoft Excel 2007 and IBM SPSS Statistics version 20 software. The statistical significance of data was determined by using the chi-square test at p <0.05.
Results. The involvement of previously trained relatives made it possible to reduce the incidence of pressure ulcers grade IV to 0%. There was a significant difference in the volume of assimilated enteral oral feeding (180.6±20.8; 240.6±20.8; 80.5±10.2; p <0.05) and the serum albumin level by 11 days after surgery (26.8±1.5; 28.9±1.2; 24.2±1.1 g/L, respectively; p <0.05). Assimilation of enteral oral feeding improved 3 times compared with the control group and 1.5 times compared with the first group (p <0.05). Indicators of cognitive status by the Mini Mental State Examination (MMSE) on the 6th day were 23.3±1.1; 25.3±1.1; 21.2±1.2 (p <0.05), respectively.
Conclusion. A rationally organized preparation of the patient's environment for the implementation of care, parti­cipation in rehabilitation measures and the prevention of complications can improve outcomes of medical intervention and reduce the incidence of postoperative complications.
Full Text

About the authors
Kazan State Medical University; Tatarstan Cancer Center
Email: maximovigor@mail.ru

Russian Federation, Kazan, Russia; Kazan, Russia

Kazan State Medical University
Author for correspondence.
Email: maximovigor@mail.ru

Russian Federation, Kazan, Russia

Kazan State Medical University; Children's Republican Clinical Hospital of the Ministry of Health of the Republic of Tatarstan
Email: maximovigor@mail.ru

Russian Federation, Kazan, Russia; Kazan, Russia

Tatarstan Cancer Center
Email: maximovigor@mail.ru

Russian Federation, Kazan, Russia

Kazan State Medical University
Email: maximovigor@mail.ru

Russian Federation, Kazan, Russia

Kazan State Medical University
Email: maximovigor@mail.ru

Russian Federation, Kazan, Russia

References
Conclusion of the Health Protection Committee of 05.06.2018 "On the draft Federal Law No. 359335-7 "On Amendments to Part 1 of Article 79 of the Federal Law On Basics of Health Protection of the Citizens in the Russian Fe­deration". http://www.consultant.ru/cons/cgi/online.c (access date: 02.02.2021). (In Russ.)
Lamas D., Nurse-Led M.D. Communication in the intensive care unit. N. Engl. J. Med. 2018; 378: 2431–2432. doi: 10.1056/NEJMe18045766.
Chiarchiaro J., Ernecoff N.C., Scheunemann L.P., Hough C.L., Carson Sh.S., Peterson M.W., Anderson W.G., Steingrub J.S., Arnold R.M., White D.B. Physicians rarely eli­cit critically ill patients' previously expressed treatment prefe­rences in intensive care units. Am. J. Respir. Crit. Care Med. 2017; 196 (2): 242–245. doi: 10.1164/rccm.201611-2242LE.
Cunningham T.V., Scheunemann L.P., Arnold R.M., White D. How do clinicians prepare family members for the role of surrogate decision-maker? J. Med. Ethics. 2018; 44: 21–26. doi: 10.1136/medethics-2016-103808.
Davidson J.E., Aslakson R.A., Long A.C., Puntillo K.A., Kross E.K., Hart J., Cox C.E., Wunsch H., Wickline M.A., Nunnally M.E., Netzer G., Kentish-Barnes N., Sprung C.L., Hartog C.S., Coombs M., Gerritsen R.T., Hopkins R.O., Franck L.S., Skrobik Y., Kon A.A., Scruth E.A., Harvey M.A., Lewis-Newby M., White D.B., Swoboda S.M., Cooke C.R., Levy M.M., Azoulay E., Curtis J.R. Guidelines for family-centered care in the neonatal, pediatric, and adult ICU. Crit. Care Med. 2017; 4 (5): 103–128. doi: 10.1097/CCM.0000000000002169.
Kon A.A., Davidson J.E., Morrison W., Danis M., White D.B. Shared decision making in ICUs: an American College of Critical Care Medicine and American Thoracic Society policy statement. Crit. Care Med. 2016; 44: 188–201. doi: 10.1097/CCM.0000000000001396.
Belkin A.A., Leyderman I.N., Davydova N.S. Reabilitatsiya v intensivnoy terapii ReabIT. Klinicheskie rekomendatsii. 2015; 52 p. (In Russ.)
Ivanova G.E., Melnikova E.V., Shmonin A.A., Verbitskaya E.V., Aronov D.M., Belkin A.A., Belyaev A.F., Bodrova R.A., Bubnova M.G., Builova T.V., Maltseva M.N., Mishina I.E., Nesterin K.V., Nikiforov V.V., Prokopenko S.V., Sarana A.M., Stakhovskaya L.V., Suvo­rov A.Yu., Khasanova D.R., Tsykunov M.B., Shamalov N.A., Yashkov A.V. Pilot project "Development of the medical rehabilitation system in Russian Federation (dome)". Preliminary results of implementation in the first and second stages. Vestnik vosstanovitel'noy meditsiny. 2017; (2): 10–15. (In Russ.)
Arykan N.G., Shestopalov A.E., Petrova M.V. Nutritional rehabilitation in oncologyafter surgery in the upper gastrointestinal tract. Fizicheskaya i reabilita­tsionnaya meditsina, meditsinskaya reabilitatsiya. 2019; 1 (3): 3–10. (In Russ.) doi: 10.36425/2658-6843-2019-3-3-10.
Parfenov A.L., Petrova M.V., Kiryachkov Yu.Yu., Zakhar­chenko V.E. Prognostic informativeness of functional acti­vity and serum albumin concentration in patients in chronic criti­cal illness with different disease outcomes. Mediko-farma­tsevticheskiy zhurnal "Puls". 2020; 22 (11): 13–23. (In Russ.) doi: 10.26787/nydha-2686-6838-2020-22-11-13-23.
Leyderman I.N., Gritsan A.I., Zabolotskikh I.B., Lomidze S.V., Mazurok V.A., Nekhaev I.V., Nikolaenko E.M., Nikolenko A.V., Poliakov I.V., Sytov A.V., Yaroshetskiy A.I. Periope­rative nutritional support. Russian Federation of anesthesiologists and reanimatologists guidelines. Annals of critical care. 2018; (3): 5–21. (In Russ.) doi: 10.21320/1818-474X-2018-3-5-21.
Sytov A.V., Leyderman I.N., Lomidze S.V., Nekhaev I.V., Khoteev A.Zh. Prakticheskie rekomendatsii po nutritivnoy podderzhke onkologicheskikh bol'nykh. Zlokachestvennye opukholi. Prakticheskie rekomendatsii RUSSCO. 2019; 9 (3s2): 639–647. (In Russ.)
Pinto T.C.C., Machado L., Bulgacov T.M., Rodrigues-Júnior A.L., Costa M.L.G., Ximenes R.C.C., Sougey E.B. Is the Montreal Cognitive Assessment (MoCA) screening superior to the Mini-Mental State Examination (MMSE) in the detection of mild cognitive impairment (MCI) and Alzheimer's Disease (AD) in the elderly? Intern. Psychogeriatrics. 2019; 31 (4): 491–504. doi: 10.1017/S1041610218001370.
Sayetgaraev A.K., Shaimardanov I.V., Zacirov I.I., Pasheev A.V., Sadykov K.K. Early cognitive and emotional rehabilitatin with oncological patiens realatives assistance in intensive care unit. Palliativnaya meditsina i reabilitatsiya. 2017; (1): 26–29. (In Russ.)
Saetgaraev A.K., Shaymardanov I.V., Egorov V.I., Maximov I.L., Sadykov K.K. Experience of attracting informed and prepared relatives to treating a geriaithric patient on an example of anti-anti-event activities in the early post-operation period. Palliativnaya meditsina i reabilitatsiya. 2020; (1): 5–9. (In Russ.)