Comparative analysis of the treatment results of patients with breast cancer using various ­reconstruction methods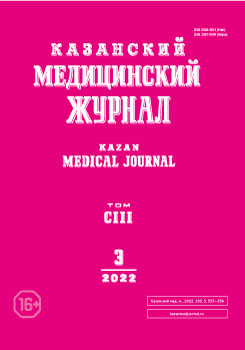 Authors: Kaganov O.I.1,2, Orlov N.A.2, Tkachev M.V.1,2
Affiliations:

Samara Regional Clinical Oncology Dispensary
Samara State Medical University

Issue: Vol 103, No 3 (2022)
Pages: 373-379
Section: Theoretical and clinical medicine
Cite item
Full Text
Open Access

Access granted

Subscription or Fee Access
Abstract
Background. Breast cancer in many cases becomes the main cause of deterioration in the quality of life of patients due to the presence of severe postoperative asymmetry.Аim. To compare immediate and long-term results, quality of life indicators and cost-effectiveness in the treatment of patients diagnosed with breast cancer using an endoprosthesis and lipofilling reconstruction.
Material and methods. A prospective study of the treatment results of 72 patients diagnosed with breast cancer was carried out. Patients in the control group (n=40) underwent subcutaneous mastectomy with endoprosthesis plastics. Patients of the main group (n=32) underwent subcutaneous mastectomy with primary reconstruction by lipofilling. The calculation of indicators characterizing the efficiency of the use of hospital beds of a medical institution was carried out, the number of cases and days of temporary disability was calculated, an analysis of economic costs was made based on the tariff for a completed case of treatment of the disease. All statistical analyzes were performed using the Statistica 10.0 software. The study established a significance test of p <0.05.
Results. In the compared groups, the immediate results of surgical treatment did not differ statistically significantly (p=0.973), while the quality of life in patients after subcutaneous mastectomy with plastic lipofilling was significantly higher on the social functioning scale (0.004) than after reconstruction with the use of an endoprosthesis. When using the method of reconstruction with the use of lipofilling, it was possible to statistically significantly reduce the length of stay of patients in the hospital.
Conclusion. The use of lipofilling as a new method of reconstruction in patients diagnosed with breast cancer allows maintaining significantly high quality of life indicators on the scale of social functioning in comparison with the group of patients who underwent reconstruction with an endoprosthesis, and also makes it possible to significantly reduce the economic costs of treating patients.
Full Text

About the authors
Samara Regional Clinical Oncology Dispensary; Samara State Medical University
Email: okaganov@yandex.ru
ORCID iD: 0000-0003-1765-6965

M.D., D. Sci. (Med.), Assoc. Prof., Deputy Chief Physician for Research
Russian Federation, Samara, Russia; Samara, Russia
Samara State Medical University
Email: tkachevmv@samaraonko.ru
ORCID iD: 0000-0002-0406-6803

student
Russian Federation, Samara, Russia
Samara Regional Clinical Oncology Dispensary; Samara State Medical University
Author for correspondence.
Email: m9277477577@mail.ru
ORCID iD: 0000-0002-4183-0647

M.D., Cand. Sci. (Med.), Oncologist, Oncology Depart. (General Oncology); Assistant, Depart. of Oncology
Russian Federation, Samara, Russia; Samara, Russia
References
Zikiryakhodzhayev AD, Masri AA, Sukhotko AS, Usov FN, Starkova MV, Ratushnaya VV, Evtyagina NV. Clinical example of the use of lipofilling with delayed reconstruction. Research and practical medicine journal. 2017;4(1):63–67. (In Russ.) doi: 10.17709/2409-2231-2017-4-1-8.
Evolyu­tsiya lipofillinga. Ot vosstanovleniya ob"ema myagkikh tkaney k regenerativnoy meditsine. (The evolution of lipofilling. From soft tissue volume restoration to regenerative medicine.) http://www.abriel.ru (access date: 15.11.2021). (In Russ.)
Koshel AP. Quality of patients' life and principles of reconstructive and plastic abdominal surgery. Voprosy rekonstruktivnoy i plasticheskoy khirurgii. 2014;17(1):6–10. (In Russ.)
Agha RA, Fowler AJ, Herlin C, Goodacre TEE, Orgill DP. Use of autologous fat grafting for breast reconstruction: a systematic review with meta-analysis of oncological outcomes. J Plast Reconstr Aesthet Surg. 2015;68(2):143–161. doi: 10.1016/j.bjps.2014.10.038.
Brennan ME, Spillane AJ. Uptake and predictors of post-mastectomy reconstruction in women with breast malignancy-systematic review. Eur J Surgery Oncology. 2013;39(6):527–541. doi: 10.1016/JE.JSO2013.02.021.
Butler PD, Nelson JA, Fischer JP, Wink JD, Chang B, Fosnot J, Wu LC, Serletti JM. Racial and age disparities persist in immediate breast reconstruction: an updated analysis of 48,564 patients from the 2005 to 2011 American College of Surgeons National Surgery Quality Improvement Program data sets. Am J Surgery. 2016;212(1):96–101. doi: 10.1016/J.AMJSURG.2015.08.025.
Iskandar ME, Dayan E, Lucido D, Samson W, Sultan M, Dayan JH, Boolbol SK, Smith ML. Factors influencing incidence and type of postmastectomy breast reconstruction in an urban multidisciplinary cancer center. Plast Reconstr Surg. 2015;135(2):270–276. doi: 10.1097/PRS.0000000000000888.
Rowland JH, Holland JC, Chaglassian T, Kinne D. Psychological response to breast reconstruction. Expectations for and impact on postmastectomy functioning. Psychosomatics. 1993;34(3):241–250. doi: 10.1016/S0033-3182(93)71886-1.
Yang RL, Newman AS, Lin IC, Reinke CE, Kara­kousis GC, Czerniecki BJ, Wu LC, Kelz RR. Trends in immediate breast reconstruction across insurance groups after enactment of breast cancer legislation. Cancer. 2013;119(13):2462–2468. doi: 10.1002/cncr.28050.
Orlov AE, Kozlov SV, Vozdvizhenskiy MO, Kaganov OI, Savel'ev VN, Tkachyov MV, Borisov AP, Kochetkov RI, Bukanova MS, Lamonov MS, Katyushin AA, Konovalova TV. Sposob rekonstruktsii posle kozhesokhranyayushchey mastektomii pri malom ob"yome molochnoy zhelezy. (A method of reconstruction after skin-sparing mastectomy with a small volume of the mammary gland.) Patent for invention RF No. 2662897. Bulletin No. 22 issued at 21.07.2018. (In Russ.)
SF-36 Physical and Mental Health Summary Scales: A manual for users of version 1. Second edition. JE Ware, M Kosinski eds. Lincoln. RI: QualityMetric; 2001. 237 р.
Supplementary files
Supplementary Files
Action