Small intestine involvement in primary immunodeficiency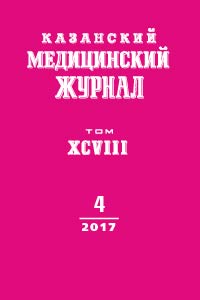 Authors: Borkhanova EG 1, Chuklyaeva AV 1
Affiliations:

Kazan State Medical University

Issue: Vol 98, No 4 (2017)
Pages: 662-664
Section: Competition of student scientific research papers
Abstract
Common variable immunodeficiency is the most frequent among all primary immunodeficiencies and is characterized by decrease of immunoglobulin secretion which causes the extent of clinical presentation of the disease. In 17-70% of patients with common variable immunodeficiency, lymphoid hyperplasia of organs of gastrointestinal tract is revealed due to which these patients come into the view of gastroenterologists. The article describes clinical observation of a patient with small intestinal involvement in common variable immunodeficiency.
About the authors
Kazan State Medical University
Email: borhano@rambler.ru
Kazan, Russia

Kazan State Medical University
Kazan, Russia

References
Моисеева Т.Н. Первичные иммунодефициты. Результаты проспективного наблюдения. Дисс. … канд. мед. наук. Челябинск. 2009; 219 с. http://medical-diss.com/medicina/pervichnye-immunodefitsity-rezultaty-prospektivnogo-nablyudeniya#ixzz2nu3n9yd6 (дата обращения: 13.02.2017).
Хаитов Р.М., Ильина Н.И. Аллергология и иммунология. Национальное руководство. М.: ГЭОТАР-Медиа. 2009; 256 с.
Васильев А.Г., Чурилов Л.П. Руководство по иммунологии и иммунопатологии. Первичные иммунодефициты с преобладанием нарушений антителогенеза. СПб.: ГПМА. 2004; 222-236.
Cunningham-Rundles C. How I treat common variable immune deficiency. Blood. 2010; 116 (1): 7-15. doi: 10.1182/blood-2010-01-254417.
Common variable immune deficiency. http://www.immunedisease.com (access date: 28.02.2017).
Калинин А.В., Логинов А.Ф., Хазанов А.И. Гастроэнтерология и гепатология: диагностика и лечение. Руководство для врачей. М.: МЕДпресс. 2011; 273-274.
Albuquerque A. Nodular lymphoid hyperplasia in the gastrointestinal tract in adult patients: A review. WJGE. 2014; 6 (11): 534-540. doi: 10.4253/wjge.v6.i11.534.
Комаров Ф.И., Гребенев А.Л. Руководство по гастроэнтерологии. Т. 3. М.: Медицина. 1996; 444-464.
Ивашкин В.Т., Лапина Т.Л. Гастроэнтерология. Национальное руководство. М.: ГЭОТАР-Медиа. 2015; 528 с.
Kō Nagasako, Hiroaki Sasaki. Differential Diagnosis of Colorectal Diseases. Tokyo: Igaku-Shoin. 1983; 60-64 p.