Morphological characteristics of reflux gastritis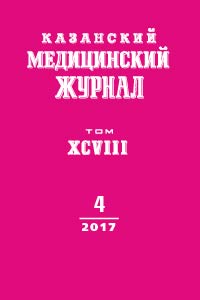 Authors: Galiev S.Z 1, Amirov NB 1, Baranova OA 2
Affiliations:

Kazan State Medical University
Republican Bureau of Forensic Medical Examination

Issue: Vol 98, No 4 (2017)
Pages: 533-538
Section: Theoretical and clinical medicine
Abstract
Aim. To study morphological features of gastric mucosa in duodenogastric reflux and the connection of the latter with the level of acidity of gastric contents, presence of H. pylori infection and contractile function of the gallbladder.
Methods. 65 patients were examined: 10 people were included in control group, and in 55 patients reflux gastritis was identified according to gastrointestinal endoscopy. Gastric contents were analyzed for the level of acidity and concentration of bile acids. For all patients histological examination of biopsy material of gastric mucosa at the level of the body and antrum was performed.
Results. Correlation between the acidity level and the concentration of bile acids in gastric contents taken from an empty stomach was found (r=-0.408; p=0.033). In patients with H. pylori pH-level was higher compared to the control group (p=0.047), at the same time the level of bile acids had no significant difference in both groups. Discharge coefficient of the gallbladder in patients with duodenogastric reflux did not differ from the control group. In patients with duodenogastric reflux significant differences from the control group were found in the rate of such morphological signs as chronic inflammatory cell infiltration (p=0.013) and mucosal edema (p=0.032) at the level of the antrum, foveolar hyperplasia at the level of the body of the stomach (p=0.0315).
Conclusion. The degree of duodenogastric reflux has a correlation with acidity of gastric juice; presence or absence of H. pylori does not affect the degree of duodenogastric reflux in primary reflux gastritis; pathomorphological features of duodenogastric reflux are gastric mucosa edema and chronic inflammation at the level of the antrum, foveolar hyperplasia at the level of the body of stomach.
About the authors
Kazan State Medical University
Author for correspondence.
Email: galis160@gmail.com
Kazan, Russia

Kazan State Medical University
Email: galis160@gmail.com
Kazan, Russia

Republican Bureau of Forensic Medical Examination
Email: galis160@gmail.com
Kazan, Russia

References
Галиев Ш.З., Амиров Н.Б. Дуоденогастральный рефлюкс как причина развития рефлюкс-гастрита. Вестн. соврем. клин. мед. 2015; 8 (2): 50-61.
Sobala G.M., O'Connor H.J., Dewar E.P. et al. Bile reflux and intestinal metaplasia in gastric mucosa. J. Clin. Pathol. 1993; 46: 235-240. doi: 10.1136/jcp.46.3.235.
Păduraru D.N., Nica A., Ion D. et al. Considerations on risk factors correlated to the occurrence of gastric stump cancer. J. Med. Life. 2016; 9 (2): 130-136. PMCID: PMC4863501.
Галиев Ш.З., Амиров Н.Б., Баранова О.А. и др. Нарушения сократительной функции жёлчного пузыря как фактор развития рефлюкс-гастрита при заболеваниях желчевыводящей системы. Соврем. пробл. науки и образования. 2016; (2): 88.
Zhang Y., Yang X., Gu W. et al. Histological features of the gastric mucosa in children with primary bile reflux gastritis. World J. Surg. Oncol. 2012; 10: 27. doi: 10.1186/1477-7819-10-27.
Matsuhisa T., Arakawa T., Watanabe T. et al. Relation between bile acid reflux into the stomach and the risk of atrophic gastritis and intestinal metaplasia: a multicenter study of 2283 cases. Dig. Endosc. 2013; 25 (5): 519-525. doi: 10.1111/den.12030.
Tatsugami M., Ito M., Tanaka S. et al. Bile acid promotes intestinal metaplasia and gastric carcinogenesis without inflammatory cell infiltration. Cancer Epidemiol. Biomarkers Prev. 2012; 21 (11): 2101-2107. doi: 10.1158/1055-9965.EPI-12-0730.
Chen S.L., Mo J.Z., Cao Z.J. et al. Effects of bile reflux on gastric mucosal lesions in patients with dyspepsia or chronic gastritis. World J. Gastroenterol. 2005; 11 (18): 2834-2847. doi: 10.3748/WJG.v11.i18.2834.
Мирошниченко В.П., Гайдай В.Н. Жёлчные кислоты и холестерин в жёлчи при заболеваниях желчевыводящих путей. Врач. Дело. 1984; 7: 27-29.
Dinis-Ribeiro M., Areia M., de Vries A.C. et al. Management of precancerous conditions and lesions in the stomach (MAPS): guideline from the European Society of Gastrointestinal Endoscopy (ESGE), European Helicobacter Study Group (EHSG), European Society of Pathology (ESP), and the Sociedade Portuguesa de Endoscopia Digestiva (SPED). Endoscopy. 2012; 44: 74-94. doi: 10.1055/s-0031-1291491.
Sjövall H. Meaningful or redundant complexity - mechanisms behind cyclic changes in gastroduodenal pH in the fasting state. Acta Physiol. (Oxf.). 2011; 201 (1): 127-131. doi: 10.1111/j.1748-1716.2010.02155.x.
Hatta W., Lijima K., Koike T. Endoscopic findings for predicting gastric acid secretion status. Dig. Endosc. 2015; 27 (5): 582-589. doi: 10.1111/den.12427.
Shimatani T., Inoue M., Iwamoto K. Gastric acidity in patients with follicular gastritis is significantly reduced, but can be normalized after eradication for Helicobacter pylori. Helicobacter. 2005; 10 (3): 256-265. doi: 10.1111/j.1523-5378.2005.00318.x.
Matsumoto Y., Ito M., Kamino D. Relation between histologic gastritis and gastric motility in Japanese patients with functional dyspepsia: evaluation by transabdominal ultrasonography. J. Gastroenterol. 2008; 43 (5): 332-337. doi: 10.1007/s00535-008-2172-y.
Matsuhisa T., Tsukui T. Relation between reflux of bile acids into the stomach and gastric mucosal atrophy, intestinal metaplasia in biopsy specimens. J. Clin. Biochem. Nutr. 2012; 50 (3): 217-221. doi: 10.3164/jcbn.11-90.