Utility of autoantibodies in insulin-dependent diabetes mellitu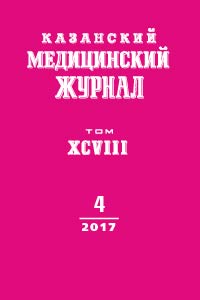 Authors: Akhmedov GA 1
Affiliations:

Azerbaijan Medical University

Issue: Vol 98, No 4 (2017)
Pages: 519-521
Section: Theoretical and clinical medicine
Abstract
Aim. To study relationship of levels of autoantibodies GAD 65, IА-2 and С-peptide with DRB1_1 and DRB1_2 genotypes of human leukocyte antigen and presence of ketoacidosis in children with newly diagnosed diabetes mellitus among the population of Azerbaijan.
Methods. 128 children with newly diagnosed diabetes mellitus were examined. The average age of children was 8.7±0.40 years. GAD 65 and IA-2 autoantibodies were measured.
Results. During the study no correlation between concentration of autoantibodies GAD 65 and IA-2 was found (r=0.067, p=0.46). Also no correlation was revealed between GAD 65 autoantibodies and C-peptide concentration (r=+0.025, p=0.011). Comparison of HLA DRB1_1 and DRB1_2 autoantibodies in 106 children also demonstrated no correlation. At the same time, positive correlation was found between glucose level and GAD 65 (r=+0.21, p=0.02). In children without ketoacidosis, but with high IA-2 (n=9) negative correlation with HbA1c level in the blood was revealed (r=-0.79, p <0.05). Children with severe ketoacidosis (n=9) with the level of IA-2 and GAD 65 autoantibodies above normal, inverse correlation between the level of blood glucose (r=-0.67, p <0.05) and mentioned autoantibodies (r=-0.72, p <0.05) was revealed. Children with high IA-2 in the blood (n=9) had a positive correlation of this parameter with the level of C-peptide (r=+0.75, p <0.05).
Conclusion. The study found no correlation between the levels of GAD 65 and IA-2 autoantibodies in children with diabetes mellitus and ketoacidosis.
Keywords
About the authors
Azerbaijan Medical University
Author for correspondence.
Email: nauchnayastatya@yandex.ru
Baku, Azerbaijan