Diagnostic and prognostic value of endothelial dysfunction markers in patients with ulcerative colitis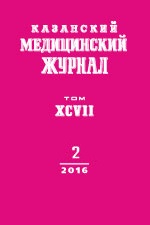 Authors: Stepina EA1, Khlynova OV1, Tuev AV1
Affiliations:

Perm State Medical University named after Academician E.A. Wagner

Issue: Vol 97, No 2 (2016)
Pages: 187-191
Section: Theoretical and clinical medicine
Cite item
Abstract
Aim. To assess the endothelial dysfunction degree in patients with ulcerative colitis, depending on the disease attack severity, the pathological process spread, the presence of systemic manifestations, complications, and endoscopic activity of the process.
Methods. 45 patients with an established diagnosis of «ulcerative colitis» in the exacerbation phase and with newly diagnosed disease forms were examined. The control group included 11 apparently healthy people. As endothelial dysfunction markers vascular endothelial growth factor levels in serum and blood plasma desquamated endothelial cells amount were studied.
Results.In the group of patients with ulcerative colitis a statistically significant increase in levels of endothelial dysfunction markers (the vascular endothelial growth factor content was 506.40±287.00 pg/ml, the plasma desquamated endothelial cells number - 6.47±4.22×104/L) was found compared with the control group (p
Conclusion. In patients with ulcerative colitis endothelial dysfunction, correlated with disease activity and severity markers, was revealed; vascular endothelial growth factor levels and plasma desquamated endothelial cells number can serve as the ulcerative colitis severity criteria, as well as a sign of unfavorable disease course.
About the authors
Perm State Medical University named after Academician E.A. Wagner
Author for correspondence.
Email: kati.aleksa@yandex.ru

Perm State Medical University named after Academician E.A. Wagner
Email: kati.aleksa@yandex.ru

Perm State Medical University named after Academician E.A. Wagner
Email: kati.aleksa@yandex.ru

References
Алексеева Е.А., Копосова К.А., Хлынова О.В. «Пермский вариант» воспалительных заболеваний кишечника. Дневник Казан. мед. школы. 2013; (1): 82.
Бойко Т.И., Стойкевич М.В., Колбасина Е.В., Сорочан Е.В. Состояние функции сосудистого эндотелия у больных с хроническими воспалительными заболеваниями кишечника. Сучасна гастроентерологія. 2010; 1 (51): 5-10.
Ивашкин В.Т., Шелыгин Ю.А., Абдулганиева Д.И. и др. Рекомендации по диагностике и лечению взрослых пациентов с язвенным колитом. Рекомендации разработаны экспертной комиссией ООО «Ассоциация гастроэнтерологов России», ООО «Ассоциация колопроктологов России» и Общества по изучению воспалительных заболеваний кишечника при Ассоциации колопроктологов России. 2013; 25 с.
Маев И.В., Григорян С.С., Гаджиева М.Г., Овчинникова Н.И. Роль цитокинов в патогенезе неспецифического язвенного колита. Клин. мед. 2002; (1): 15-19.
Реброва О.Ю. Статистический анализ медицинских данных. Применение прикладных программ STATISTICA. М.: МедиаСфера. 2003; 312 с.
Халиф И.Л., Лоранская И.Д. Воспалительные заболевания кишечника (неспецифический язвенный колит и болезнь Крона): клиника, диагностика и лечение. М.: Миклош. 2004; 88 с.
Angerio A.D., Bufalino D., Bresnick M. Inflammatory bowel disease and endothelin-1. Crit. Care Nurs. Quarterly. 2005; (28): 208-213. http://dx.doi.org/10.1097/00002727-200504000-00013
Belousova E.A. Epidemiology of inflammatory bowel disease in Russia. Falk Symposium. 2006; 31.
Ferrante M., Pierik M., Henckaerts L. et al. The role of vascular endothelial growth factor (VEGF) in inflammatory bowel disease. Inflamm. Bowel Dis. 2006; 12 (9): 870-878. http://dx.doi.org/10.1097/01.mib.0000235095.01608.10
Hladovec J. Circulating endothelial cells as a sign of vessel wall lesions. Physiol. Bohemoslov. 1978; 27: 140-144.
Jacques C. Smoking, physical activity, nutrition and lifestyle: environmental factors and they impact on IBD. Falk Symposium 172. 2010; 411-417.
Kaser A., Nieuwenhuis E., Glimcher L. et al. Innate immunity in inflammatory bowel disease. Falk Symposium. 2006; 23-24.
Kopanakis N., Saiti A., D'Avgerinos E. et al. Serum VEGF and bFGF in patients with inflammatory bowel diseases. Ann. Ital. Chir. 2014; 85 (3): 203-206.
Roifman I., Sun Y.C., Fedwick J.P. et al. Evidence of endothelial dysfunction in patients with inflammatory bowel disease. Clin. Gastroenterol. Hepatol. 2009; 7 (2): 175-182. http://dx.doi.org/10.1016/j.cgh.2008.10.021
Siddharth S., Harkirat S., Edward Loftus V., Darrell P.S. Risk of cerebrovascular accidents and ischemic heart disease in patients with inflammatory bowel disease: A systematic review and meta-analysis. Clin. Gastroenterol. Hepatol. 2014; 12 (3): 382-393. http://dx.doi.org/10.1016/j.cgh.2013.08.023