Distress symptoms development after a single episode of ultrasound exposure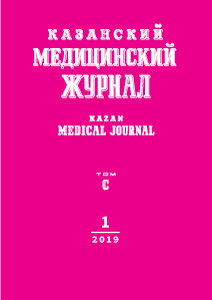 Authors: Nosova MN1,2, Bondarchuk Y.A1,2, Shakhmatov II1,2, Matsyura AV3, Marshalkina PS1, Prokopets DA1
Affiliations:

Altai State Medical University
Scientific Research Institute of physiology and fundamental medicine
Altai State University

Issue: Vol 100, No 1 (2019)
Pages: 140-146
Section: Experimental medicine
Abstract
Aim. To study the influence of a single 24-hour episode of exposure to ultrasound waves propagating in air on microcirculation and parameters of hemostasis in rats.
Methods. The study was performed on 28 Wistar male rats. The experimental group was exposed to ultrasound for 24 hours. Geometric mean frequency was 25 kHz, acoustic pressure was 84.3 dB. Parameters of microcirculation of experimental rats received by laser Doppler flowmetry were compared with those of intact animals. Also comparative analysis of platelet and coagulation hemostasis, anticoagulant and fibrinolytic plasma activity was performed in rats from both groups.
Results. In experimental rats in response to 24-hour exposure to ultrasound, significant decrease of the studied active and passive factors of blood flow modulation occurred compared to those of intact animals: parameters of microcirculation, flax, endothelial and vasomotor wave amplitude, respiratory and pulse wave amplitude. When studying the parameters of hemostasis, significant hypercoagulation of extrinsic pathway and at the latest stages of coagulation which worsened with anticoagulant plasma activity inhibition along with decrease of fibrinolytic activity. The character of changes of hemostatic parameters confirmed the development of stress-reaction in rats registered during the study of microcirculation.
Conclusion. 24-hour ultrasound exposure causes significant disorders of microcirculation and unfavorable shifts in hemostasis - the signs of distress.
Keywords
M N Nosova
Altai State Medical University; Scientific Research Institute of physiology and fundamental medicine
Author for correspondence.
Email: mn.nosova@gmail.com
Barnaul, Russia; Novosibirsk, Russia
Yu A Bondarchuk
Altai State Medical University; Scientific Research Institute of physiology and fundamental medicine
Email: mn.nosova@gmail.com
Barnaul, Russia; Novosibirsk, Russia
I I Shakhmatov
Altai State Medical University; Scientific Research Institute of physiology and fundamental medicine
Email: mn.nosova@gmail.com
Barnaul, Russia; Novosibirsk, Russia
A V Matsyura
Altai State University
Email: mn.nosova@gmail.com
Barnaul, Russia
P S Marshalkina
Altai State Medical University
Email: mn.nosova@gmail.com
Barnaul, Russia
D A Prokopets
Altai State Medical University
Email: mn.nosova@gmail.com
Barnaul, Russia
Kozlov V.I. Blood microcirculation system: clinical and morphological aspects of the study. Regionarnoe krovoobrashchenie i mikrotsirkulyatsiya. 2006; 5 (1): 84–101. (In Russ.)
Chernukh A.M., Aleksandrov P.M., Alekseev O.V. Mikro­tsirkulyatsiya. (Microcirculation.) Moscow: Medi­tsina. 1984; 456 р. (In Russ.)
Тихомирова И.А., Муравьёв А.В., Петроченко Е.П., Михайлова С.Г. Микроциркуляция и реология крови при нарушениях кровообращения. Ярославль: Канцлер. 2011; 103 с. [Тikhomirova I.A., Murav'ev A.V., Petrochenko E.P., Mikhaylova S.G. Mikrocirkulyaciya i reologiya krovi pri narusheniyakh krovoobrashcheniya. (Microcirculation and blood rheology by circulation disorders.) Yaroslavl': Kantsler. 2011; 103 р. (In Russ.)]
Shakhmatov I.I., Nosova M.N., Vdovin V.M. et al. Features of the reaction of hemostasis during stress in individuals with different levels of fitness. Russkiy fiziologicheskiy zhurnal im. I.I. Sechenov. 2011; 97 (11): 1254–1261. (In Russ.)
Fedorovich A.A. The functional state of regulatory mechanisms of the microcirculatory blood flow in normal conditions and in arterial hypertension according to laser Doppler flowmetry. Regionarnoe krovoobrashchenie i mikrotsirkulyatsiya.. 2010; 9 (1): ­49–60. (In Russ.)
Ivanov A.N., Grechikhin A.A., Norkin I.A., Puchin'yan D.M. Methods of endothelial dysfunction diagnosis. Regionarnoe krovoobrashchenie i mikrotsirkulyatsiya.. 2014; 13 (4): 4–11. (In Russ.)
Krupatkin A.I., Sidorov V.V. Lazernaya dopplerovskaya floumetriya. (Laser Doppler flowmetry.) Moscow: Meditsina. 2005; 256 р. (In Russ.)
Kozlov V.I., Gurova O.A., Litvin F.B. et al. Disorders of tissue blood flow, their pathogenesis and classification. Regionarnoe krovoobrashchenie i mikrotsirkulyatsiya. 2007; (1): 75–76. (In Russ.)
Krupatkin A.I., Sidorov V.V. Funkcional'naya diagnostika sostoyaniya mikrocirkulyatorno-tkanevyh sistem: kolebaniya, infor­maciya, nelinejnost'. (Functional diagnostics of the state of microcirculatory tissue systems: oscillations, information, non-linearity.) Guide for physicians. Moscow: LIBROKOM. 2013; 496 р. (In Russ.)
Beyer A.M., Freed J.K., Durand M.J. et al. Critical role for telomerase in the mechanism of flow-mediated dilation in the human microcirculation. Circulation Res. 2016; 118 (5): 856–866.
Murav'ev A.V., Cheporov S.V. Gemoreologiya (ekspe­rimental'nye i klinicheskie aspekty reologii krovi). (Hemo­rheology (experimental and clinical aspects of blood rheology).) Yaroslavl': izdatel'stvo YAGPU. 2009; 178 р. (In Russ.)