Efficacy of plasma exchange in patients with ischemia-reperfusion syndrome of the lower extremities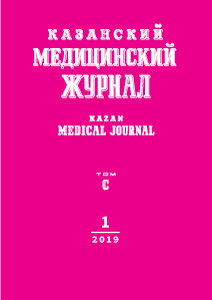 Authors: Zhigalova M.S., Pasechnik I.N., Kutepov D.E.
Issue: Vol 100, No 1 (2019)
Pages: 130-134
Section: Theoretical and clinical medicine
Abstract
Aim. Optimization of treatment of patients with critical lower limb ischemia in ischemia-reperfusion syndrome by a combination of infusion therapy and plasma exchange.
Methods. The study included 58 patients (48 men, 10 women) aged 52 to 87 years (mean age 67.1±6.2 years) operated for critical lower limb ischemia. In the postoperative period all patients received standard conservative treatment. Depending on its effectiveness, the patients were divided into two groups: group 1 (n=30) with a positive response to the treatment and group 2 (n=28) where plasma exchange was required. The indications for plasma exchange were a decrease in the rate of diuresis <0.5 ml/kg/h after the surgery for 4-6 hours, exceeding 5 times the normal values of creatine phosphokinase and 3 times the level of myoglobin.
Results. In 48% of patients (group 2), deterioration of the condition was registered, which manifested by deterioration of the state, increase in shortness of breath, decrease in the rate of diuresis. In the laboratory analysis of patients of group 2, attention was drawn to an increase in the level of myoglobin to 287.8±30.1 ng/ml, creatine phosphokinase activity to 1769.3±191.8 u/l, and that of lactate to 2.2±0.3 mmol/l. These parameters exceeded not only the normal values, but also the indicators of group 1. These changes indicated the manifestation of ischemia-reperfusion syndrome and the threat of acute kidney injury. Plasma exchange was accompanied by clinical improvement (decrease in shortness of breath, increase in the rate of diuresis) and pronounced positive dynamics of laboratory parameters. The inclusion of plasma exchange into the complex therapy of ischemia-reperfusion syndrome was accompanied by an increase in the rate of diuresis by 1.7 times (p <0.05), a decrease in the level of myoglobin by 3.1 times (p <0.05) and the activity of creatine phosphokinase by 2.8 times (p <0.05).
Conclusion. The use of plasma exchange during the first hours of clinical and laboratory manifestations of ischemia-reperfusion syndrome can prevent the development of fatal complications associated with the progression of this syndrome.
M S Zhigalova
Central State Medical Academy of the Presidential Administration of the Russian Federation; Scientific Research Institute of Emergency Care. n.a. N.V. Sklifosovskiy
Author for correspondence.
Email: kutepovde@gmail.ru
Moscow, Russia; Moscow, Russia
I N Pasechnik
Central State Medical Academy of the Presidential Administration of the Russian Federation
Email: kutepovde@gmail.ru
Moscow, Russia
D E Kutepov
Central State Medical Academy of the Presidential Administration of the Russian Federation; Clinical Hospital №1 of the Presidential Administration of the Russian Federation
Email: kutepovde@gmail.ru
Moscow, Russia; Moscow, Russia
Zudin A.M., Zasorina M.A., Orlova M.A. Epidemiology of chronic critical limb ischemia. Khirurgiya. 2014; (10): ­91–95. (In Russ.)
Norgren L., Hiat W.R., Dormandy J.A. et al. Inter-Society Consensus for the Management of Peripheral Arterial Disease (TASC II). J. Vasc. Endovasc. Surg. 2007; 33 (Suppl.): 1–75. doi: 10.1016/j.ejvs.2006.09.024.
Ouriel K. Comparison of surgical and thrombolytic treatment of peripheral arterial disease. Rev. Cardiоvasc. Med. 2002; 3 (Suppl. 2): 7–16. РMID: 12556739.
Bokeriya L.A. Klinicheskie rekomendatsii po vedeniyu patsientov s so­sudistoy arterial'noy patologiey (Rossiyskiy sogla­sitel'nyy dokument). Chast' 1. Perifericheskie arterii. (Clinical recommendations on patient management of vascular arterial pathology (Russian consensus paper). Part 1. Peripheral arteries.) Moscow: Pub. NTsSSKh A.N. Bakuleva RAMS. 2010; 176 p. (In Russ.)
Ryabov G.A., Ladygin S.S., Azizov Yu.M., Pasechnik I.N. Assessment of hypoxia by metabolism of purine com­pounds. Vestnik AMN SSSR. 1991; (7): 3–7. (In Russ.)
Pasechnik I.N., Skobelev E.I., Krylov V.V. et al. Abdominal sepsis and oxidative stress. Khirurgiya. 2015; (12): 18–23. (In Russ.)
Gladwin M.T., Kato G.J., Weiner D. et al. Nitric oxide for inhalation in the acute treatment of sickle cell pain crisis: a randomized controlled trial. JAMA. 2011; 305 (9): 893–902. DOI: 0.1001/jama.2011.235.
Koksal G.M. Oxidative stress and its complications in human health. Adv. Biosci. Biotechnol. 2012; 3 (8): ­1113–1115. doi: 10.4236/abb.2012.38136.
Smirnov A.V., Dobronravov V.A., Rumyantsev A.Sh., Kayukov I.G. Ostroe povrezhdenie pochek. (Acute kidney injury.) Moscow: MIA. 2015; 488 p. (In Russ.)
Baines C.P. How and when do myocytes die during ischemia and reperfusion: the late phase. J. Cardiovasc. Pharmacol. Ther. 2011; 16 (3–4): 239–243. doi: 10.1177/­1074248411407769.
Kutepov D.E., Zhigalova M.S., Pasechnik I.N. Pathogenesis of ischemia/reperfusion syndrome. Kazanskiy meditsinskiy zhurnal. 2018; 99 (4): 640–644. (In Russ.)
Sauret J.M., Marinides G., Wang G.K. Rhab­domyolysis. Am. Family Physician. 2002; 65 (5): ­907–912. PMID: 11898964.
Dick F., Li J., Giraud M.N. et. al. Basic control of reperfusion effectively protects against reperfusion injury in a realistic rodent model of acute limb ischemia. Сirculation. 2008; 118 (19): 1920–1928. doi: 10.1161/CIRCULATIONAHA.108.787754.
Khoroshilov S.Ye., Nikulin A.V. Detoxication in critical conditions: an Insight into the scientific problem in the XXI century (review). Obshchaya reanimatologiya . 2017; 13 (5): 85–108. (In Russ.)